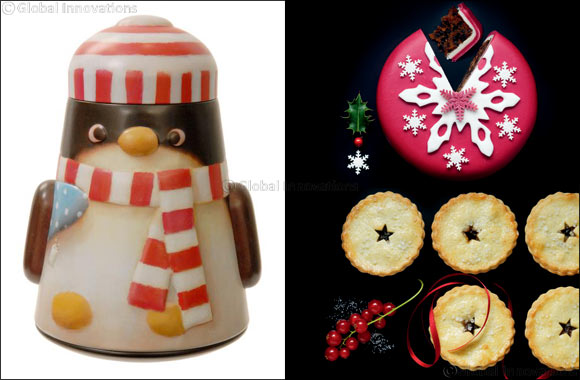 CELEBRATE with LOVE: The Festive Season at Marks & Spencer
Dubai, November 24, 2016: The experts at Marks & Spencer have created a must-have collection of food to make this festive season the best yet. From desserts to snacks and gifts, Marks & Spencer is a one stop shop for everything you will need to celebrate this season in style.
In the true spirit of the festive season, this year's range has a strong focus on sharing, with a large selection of show-stopping party foods and innovative snacks. From a sumptuous selection of cakes and desserts to classic British cheeses, you'll find plenty of fresh ideas to make your festive meals special.
Christmas All Butter Mini
Mince Pies (9 pieces)
Price: AED 30
Serve your guests mince pies warmed in the oven with a drizzle of cream, or a dollop of our colourful and tangy Christmas curd. Surprise your family and friends with our luxurious Scottish Smoked Salmon Souffles, made with a light and delicate mousse created from our fine Lochmuir™ smoked salmon, and complemented by a smoked salmon garnish.
Radiant Red Snowflake
Cake (1.38kg)
Price: AED 125
For those with a sweet tooth there's plenty of choice. After your meal, tuck into a rich pudding or an intricately decorated season cake. Our Radiant Red Snowflake Cake is made with dried fruit and is better served cold while our classic recipe season pudding is made with ground almonds for a family-friendly texture.
Gifts from Marks & Spencer
This year Marks & Spencer has food gifts covered for all the family too. Whether you want to wow a family member with the Collection Dulce de Leche Truffles - one of our Latin America favourites, or get a smaller gift for children, there's something for everyone.
For tea lovers there are plenty of options to choose from, from the Spiced Tea Tin to the Mulled Fruit Infusion or the classic Biscuits for Tea Tin.
Biscuits
for Tea Tin (500g)
Price: AED 70
Children certainly won't miss out on the foodie fun with the Hollow Filled Milk Chocolate Piñata which rewards you with an assortment of sweet treats when you break through the edible shell or the delicious Milk Chocolate Penguin Pals. They won't be left out when it comes to foodie gifts either with the Caramel Filled Milk Chocolate Presents or the Penguin Tins.
Chocolate lovers are well catered for with some of the most innovative chocolate selections yet. Along with the Golden Belgian Chocolate and Toffee Sponge, there's the delicious Belgian White Chocolate Orange Florentines, the Collection Italian Dark Chocolate Coated Amarena Cherries or the Extremely Chocolatey Yule Log, inspired by the France season traditions.
Wobbly Penguin
Biscuit Tin (200g)
Price: AED 70