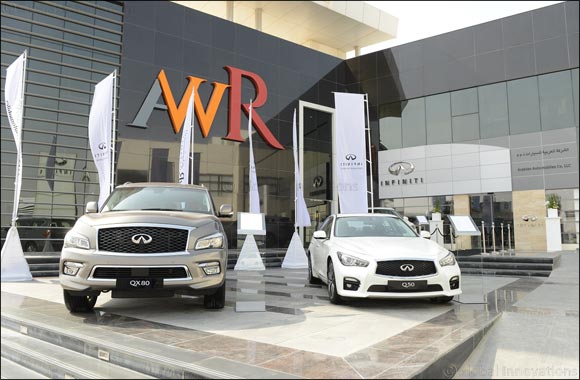 State-of-the-art Center is the first of its kind and will cater significantly to INFINITI'S ever expanding customer base
Dubai, UAE, November 23, 2016: Arabian Automobiles Company, the flagship company of AW Rostamani Group and the exclusive dealer for INFINITI in Dubai and the Northern Emirates, achieves yet another milestone: the first ever Certified Pre-Owned Center in the MENA region.
Michel Ayat, CEO of Arabian Automobiles Company said, "We are proud to announce the launch of the region's first Certified Pre-Owned Center for INFINITI in Dubai. Our goal, through the introduction of the center, is to make available a range of top-quality pre-owned vehicles to the market that have all been thoroughly vetted by our team of in-house experts. We are confident of the positive response that this Center will have on our relationship with our existing customers and potential INFINITI buyers."
The multiple requests bought forth by INFINITI customers coupled with extensive market research led to the conceptualization of the Certified Pre-Owned Center. Located on Sheikh Zayed Road, the highly anticipated center is located alongside the existing IREDI (Infiniti Retail Environment Design Initiative) new car center. The Center embraces the energetic and modern designs that epitomize INFINITI'S strength, using rich materials, natural shapes and a transparent layout that symbolizes the design of all INFINITI models.
By purchasing a certified pre-owned vehicle, customers enjoy post sale benefits in the form of 1 year or 30,000 KM warranty included in the price of their INFINITI, any time road side assistance and paint protection for the car.
Ayat added, "As advocates of Thinking Globally and Acting Locally, the Center is our adaptation of global trends revolutionizing the buying process for customers. By recognizing a considerable opportunity, we now cater to customers looking for INFINITI pre-owned vehicles. The product line-up offered at the center ensures that every customer is given the complete INFINITI experience. Our certified pre-owned vehicle purchase process is much closer to that of buying a new INFINITI, which means that our customers receive the highest quality standards for their purchase."
Arabian Automobiles, the largest distributor of INFINITI vehicles in the Middle East, ensures high standards of quality and efficiency for all vehicles in the Center. The Company sets a benchmark for any INFINITI vehicle gaining the certified pre-owned status by ensuring that each vehicle is less than five years old with under 80,000kms on the odometer and no chassis or frame damage. Cars are also put through a rigorous and comprehensive 145-point inspection including an assurance that the vehicles are low mileage and eligible for a reconditioning process backed by comprehensive warranty. INFINITI of Arabian Automobiles ensures exceptional overall conditions along with generous finance options that best suit every customer's needs and budget.