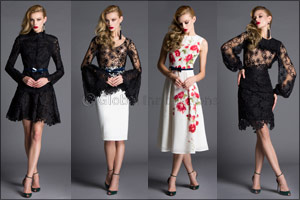 Dubai, UAE, November 20, 2016: Inspired by the designer's love of London, during the early onset of winter, the collection features the most coveted of monochromatic colours as a base – stark black and ice white – with flares of the city's statement bold red scattered throughout.
Reminiscent of the vast open plains of Hyde Park on a crisp November afternoon, full-bodied dresses covered in laser-cut leaves, pay homage to the fallen foliage as autumn's last leaf cascades down. Long-line box and kimono jackets keep the chill at bay while circular skirts in double georgette catch flight in the heightened breeze.
As evening falls, so does winter's first snowflake, replicated with woven crystal detailing on softly tailored jackets. Delicate lace with reflective embroidered detailing mirrors the melting snow glistening under the park lights. Taking influence from London's famous double decker busses, postboxes and traditional – but largely extinct – phone boxes, bold red offers a strong and imposing dash of colour.
A master of creating chic ensembles that flow effortlessly from day-to-evening, Jelena Jakovljevic Bin Drai cleverly combines conservative skirts with sheer – yet elegant – tops with dramatic effect. Round necklines and high backs are apparent throughout the ultra feminine collection, as are slim bow belts and bell-sleeve detailing.