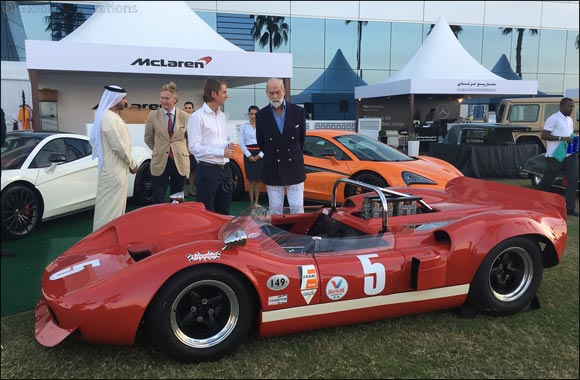 Gulf Concours celebrates automotive excellence with some of the world's rarest and most valuable cars on display for the first time in the UAE
Dubai, UAE, November 19, 2016: His Royal Highness Prince Michael of Kent today inaugurated the prestigious Gulf Concours event at the iconic seven star Burj Al Arab Jumeirah.
The exclusive, invitation-only event is showcasing some of the world's rarest and most valuable classic and current cars on the lawns of one of Dubai's most iconic landmarks this weekend (17 to 19 November 2016).
His Royal Highness Prince Michael of Kent toured the exhibition area which displayed a hand selected mix of 'modern bespoke' cars, set in the lavish grounds of the new Burj Al Arab Terrace.
"We are so proud to be launching Gulf Concours in the UAE," said Rory Heron, Managing Director of Thorough Events Singapore, the event owners and organisers.
"This first time exhibition has attracted the Middle East's most discerning collectors and car enthusiasts, and we have no doubt that it will become one of the most noted Concours d' elegance events in the world."
The Gulf Concours is supported by Emirates Sky Cargo and the world's oldest watchmaker, Vacheron Constantin which has enjoyed uninterrupted activity since Jean-Marc Vacheron opened his workshop in the heart of Geneva in 1755.
Emirates SkyCargo is the freight division of Emirates airline and the world's largest international air cargo carrier headquartered in Dubai, connecting cargo customers to over 150 destinations across 82 countries in 6 continents. As part of its product portfolio, Emirates SkyCargo offers specialised solutions for the transport of exclusive automobiles.
The event was organised in partnership with Barclays, a leading transatlantic consumer, corporate and investment bank, offering products and services across personal, corporate and investment banking, credit cards and wealth management.
William Oullin, Chairman of Wealth Management (EMEA) and Barclays Bank (Suisse) SA, said: 'We are delighted to be part of this prestigious event which visits the region for the first time. At Barclays, we continue to partner with key activities that further strengthen the leading position of the United Arab Emirates on the global arena. This exclusive event is globally recognised and serves as a networking platform for international collectors and car enthusiasts."
Set to become one of the world's most noted Concours d' elegance events globally, the Gulf Concours will attract the wealthiest collectors and connoisseurs from within the region and around the globe.