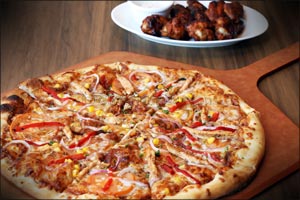 Dubai, UAE, November 16, 2016: Pizza fanatics in Dubai can satisfy their cravings with the opening of zpizza, a California-based pizza chain that has relaunched in the UAE. Now under new management and with a redesigned look, zpizza has opened its doors at Eros House, Al Barsha, Dubai, and continues to provide the same better-for-you alternative without compromising on taste.
Commenting on the relaunch, zpizza's Dubai franchisee, Harsh Pancholia, says: "I've long been a fan of zpizza since visiting an outlet in LA, and am very excited to undertake the project of zpizza's relaunch".
The world-renowned pizzas start with fresh, daily-prepared dough, and are hand-thrown and fire-baked until uniquely crisp. By offering only premium ingredients, including part-skim mozzarella, certified organic tomato sauce, MSG-free pepperoni with no added nitrites or preservatives and 100 percent all-natural, non-GMO flour, zpizza's hand-crafted artisan dishes are not only kid-friendly, but also offer healthier, naturally better options.
Menu highlights include the melt-in-your-mouth skillet-baked, marinated chicken ZWings, the mammoth Hot Meatball Sub, the crisp Cobb Salad, and the flavourful California classic pizza, featuring juicy roma tomatoes and roasted zucchini.
The California pizza outlet offers authentic and exclusive recipes with natural ingredients to traditional pizza lovers, health-conscious consumers and refined palates alike.