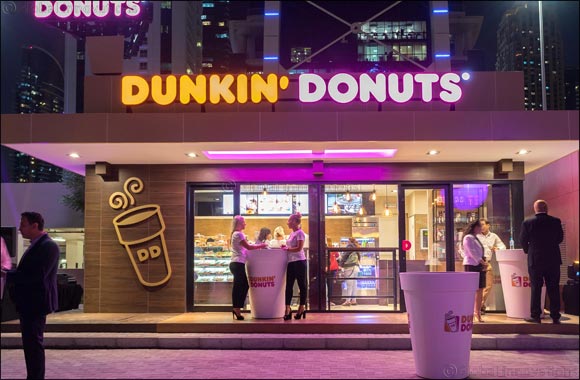 Dunkin' Donuts celebrates the grand opening of its first standalone outlet at Jumeirah Lakes Towers in Dubai. The new Dunkin' Donuts outlet, which serves the brand's wide range of quality beverages, sandwiches and baked goods, brings the total of Dunkin' Donuts locations in the UAE to 73. Actress Suzan Najm Aldeen was on hand to help celebrate the grand opening in style.
"We're pleased to celebrate today's Dunkin' Donuts grand opening at Jumeirah Lakes Towers, which marks the beginning of a new chapter for our brand in the UAE," said John Varughese, Vice President, Dunkin' Brands International. "We look forward to working with our franchisee, Continental Food Establishment, to bring our brand to even more people throughout the UAE in the years ahead."
Inspired by the ethos of surpassing guest expectations, Dunkin' Donuts will continue to expand their presence across the UAE to bring its high-quality food and beverages to even more people. The company has set its sights on becoming the category leader in the UAE with its extensive menu of delicious hot and cold espresso beverages, hot and cold coffees, teas, frozen beverages, sandwiches, donuts and other baked goods, along with its fast and friendly service, reflecting the brand's efforts to meet the daily needs and aspirations of its customers.
"We are excited to further expand Dunkin' Donuts' presence in Dubai and play an important role in the daily lives of people who live and work within the JLT community," said Marwan Salha, CEO of Continental Food Establishment, Dunkin' Donuts master franchisee for the UAE and Kuwait.
Mr. Salha continued: "Our customer service culture is distinctively warm, energetic, informal and welcoming. The difference is backed by our unmistakable restaurant concepts that make Dunkin' Donuts a living brand and a lively experience"
"The new outlet at JLT is the latest link of our chain that spreads delightful surprises, positive energy, warmth and love. Having the superstar Suzan Najm Aldeen with us at the grand opening spoke volumes for what we portray," he added.
Mr. Gautam Sashittal, Chief Executive Officer DMCC, declared during the inauguration of the new branch and the Ribbon-Cutting ceremony: "DMCC leads the way on innovation and constantly welcomes new businesses and innovative concepts. Today, we celebrate the launch of Dunkin' Donuts, which is one of the few standalone quick service restaurants alongside a Dubai Metro Station."
The Superstar Suzan Najm Aldeen addressing the audience with her usual spontaneity and eye-catching smile, said: "I advise you to come and enjoy your daily morning coffee here, and to savor specifically the new delicious croissants. Many thanks to all of you and to the work team; I am happy to join you and I hope that our collaboration will lead to more and more success, so that together, we fill the world with joy and optimism, just like the Dunkin' Donuts colors."