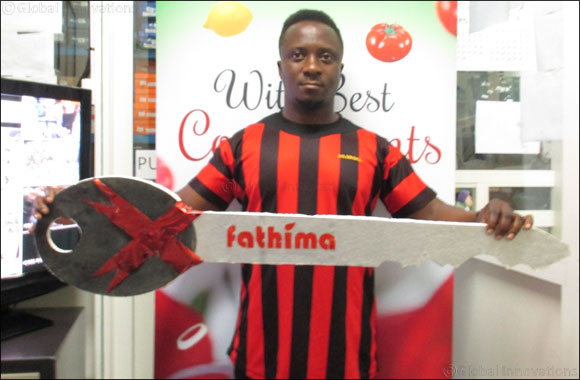 Dubai, UAE, November 14, 2016: The UAE-based retail major Fathima Group has announced the winners of its 'Shop & Drive' promotion. Mr. Christophor Akwamobo and Master Abel Abraham drove away with brand-new Mitsubishi Pajero cars as the grand prize.
All customers who shopped for a minimum of AED 50 and above at Fathima hypermarkets in Fujairah and Ras Al Khaimah were eligible for the raffle draw.
Commenting on the campaign, Mr. Sameer Sulaiman, Group CEO of Fathima Group, said, "We were overwhelmed by the response we received for the campaign from our customers in the emirates of Fujairah and Ras Al Khaimah. Success of this campaign further elucidates Fathima retail chain's position as a customer-friendly, one-stop destination for all household needs."
"Fathima supermarket has always been in the forefront of providing its customers with the widest choice of brands and products at fair prices. Through its customer centric approach Fathima retail established itself as a people-driven brand offering variety and consistent availability of products. The retail chain has aptly positioned itself to be one of the preferred places for convenience and friendly shopping, it has also since inception, demonstrated swift responsiveness towards seasonal shopping trends," he added.
Fathima Group with diversified businesses, predominantly a chain of hypermarkets, supermarkets and department stores, is currently on a vast expansion mode. The Group reinforces itself firmly to the modern, customer-centric retail landscape of the region by opening more retail outlets in the region and beyond.