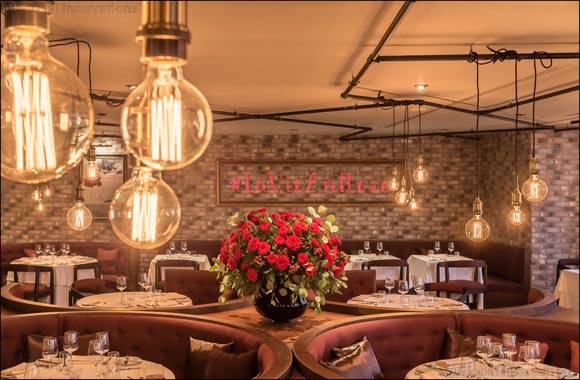 Dubai, UAE, November 12, 2016: La Môme Dubai, the city's favourite home-grown French restaurant and bar is now open for lunch. The latest dining hotspot located on the 49th floor of the Nassima Royal Hotel on Sheikh Zayed Road, will now be open from 12:30pm to 3pm daily, last order at 2:45pm.
There are three options available for La Môme Dubai's lunchtime offerings. The first is a main course and coffee for just AED 80. The other two options consist of a main course and a coffee; one is with starter included, the other is with dessert and both cost AED 130. Every day there will be a selection of four starters, four main courses, and a desert of the day to choose from.
La Môme Dubai is a taste of 1950s and 60s vintage France in Dubai. The venue has a total seated capacity of 100 guests, with valet parking available at the front of the hotel.
"We are very happy with how La Môme Dubai has been received in the city so far and as a result of the positive feedback and popular demand we are really pleased to announce that we are now open for lunch," says Olivier Loeb, one of the brains behind La Môme Dubai.
"Our lunch menu offers classic French favourites from Toast aux champignons de Paris to Sole meunière and although there isn't a la carte available we have the perfect selection of dishes to choose from that ensures that there is something different each day," Olivier continued.
Inspired by the nickname of iconic French singer Edith Piaf, La Môme Dubai creates a jazzy and funky atmosphere for guests highlighting 'La joie de vivre' which captured the mindset and spirit of post Second World War France.
The interior décor reflects a modern twist on the 1950 and 60s vintage era in France, blending a stylish and intimate venue with a central location and a magnificent city skyline backdrop. Naturally providing a comfortable ambience La Môme Dubai entertains a trending and aspirational crowd.
La Mome Dubai is now open from 12:00pm to 3:00pm for lunch and from 7:30pm to 12:am every day. For reservations, call +971 4 308 04 70. For more information, www.LaMomeDubai.com