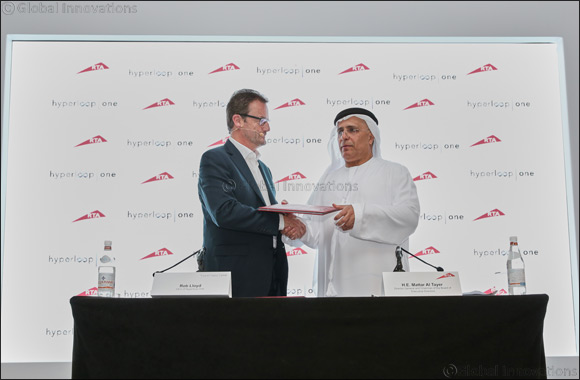 Agreement to study high-speed routes that reduce travel time between Abu Dhabi and Dubai to 12 minutes
UAE could see a Hyperloop 'within next five years', according to company
Hyperloop One vision includes original concept for autonomous vehicles and Hyperloop One Portal design
Dubai, UAE, November 10, 2016: The UAE is one step closer to being the world's first location for a new form of high speed transport, after an agreement signed today between Dubai's Road and Transport Authority (RTA) and pioneering mobility company, Hyperloop One. The two parties have agreed to jointly explore routes for a transport system between Abu Dhabi and Dubai which will reduce journey times for people and goods between the two emirates to just twelve minutes.
Director General & Chairman of the Board of Executive Directors of the RTA, H.E. Matter Al Tayer, commented on the agreement, saying, "In line with the vision of H.H. Sheikh Mohammed Bin Rashid Al Maktoum – Vice President and Prime Minister of the UAE and Ruler of Dubai – RTA is collaborating closely with Dubai Future Accelerators to support innovative solutions for the future of mobility.
"This is an opportunity to help transform the UAE from a technology consumer to a technology creator, incubating expertise for a new global industry, in line with the UAE's Vision 2021. With Hyperloop One, we will create a new means of transportation, keeping our region at the forefront of transportation technology and innovation."
Rob Lloyd, CEO of Hyperloop One said, "Having signed an agreement with DP World in August to pursue a cargo-based Hyperloop One system at Jebel Ali port, our focus has now expanded to include connecting the emirates. As the central global transport hub, pursuing the implementation of a Hyperloop in the UAE makes sense. The leaders of the UAE understand that transportation is the new broadband, with the power to transform life throughout the GCC."
He continued, "We are now at a stage where, from a technological point of view, we could have a Hyperloop One system built in the UAE in the next five years. Our agreement with the RTA is the biggest step yet towards achieving this goal."
The idea of a Hyperloop – a low-pressure tube through which levitating pods can travel at up to 1,200 km/h – has recently gained attention around the world. Benefits include higher standards of safety than a passenger jet, lower build and maintenance costs than high-speed rail, and energy usage, per person, that is similar to a bicycle.
Alongside the signing of the RTA agreement, the Hyperloop One team introduced, for the first time ever, a vision that represents a complete transformation in the way that people travel in the twenty first century.
"By making autonomous vehicles an integral part of the development of the Hyperloop One system, we are introducing the idea of seamless, uninterrupted end-to-end mobility," said Josh Giegel, Hyperloop One's President of Engineering. "Imagine stepping out of your villa in Dubai, into a self-driving vehicle that resembles your living room, and arriving just 48 minutes later at your office in Riyadh. That is what Hyperloop One can deliver."
Under the terms of today's agreement, Hyperloop One will work with McKinsey & Co. and the Bjarke Ingels Group (BIG) – a world-renowned team of architects and engineers – on a detailed feasibility study sponsored by the RTA. The agreement moves the company into its second stage of progress in the UAE, having been invited to the UAE to participate in the Dubai Future Foundation, culminating in a recent presentation of Hyperloop One's vision to Sheikh Mohammed bin Rashid al Maktoum.
Conceptual Vision
The engineers, architects and designers from Hyperloop One and BIG have collaborated intensively for six months to produce a wholly original system design for Hyperloop travel. Today the company showcased the first-ever routes from Abu Dhabi to Dubai, several Hyperports (the equivalent of a station or airport) throughout Dubai, and the conceptual interiors and exteriors of the individual passenger pods. The work is based on a detailed study of how an urban and inter-city transport network should integrate with the existing infrastructure. It's autonomous, point-to-point and vastly simplifies the experience of getting from your front door to your destination.
"With Hyperloop One we have given form to a mobility ecosystem of Hyperpods and Hyperloop One Portals, where the waiting hall has vanished, along with waiting itself," says Bjarke Ingels, founder, BIG.
"Collective commuting with individual freedom at near supersonic speed: we are heading for a future where our mental map of the city is completely reconfigured, as our habitual understanding of distance and proximity – time and space – is warped by this new form of travel.'
In less than two years, Hyperloop One has raised more than USD $160 million, assembled a team of more than 200 world-class experts, built a campus in Downtown Los Angeles, a test and safety site in the Nevada desert, and a 10,000-sq. m. machine and tooling shop in North Las Vegas. In addition, the company has established a global partner network with industry leaders including DP World, GE, SNCF, AECOM, Arup, Systra, Ramboll, and KPMG.
"The momentum is global and accelerating," says Rob Lloyd. "The world will see the test of the first full-scale Hyperloop system in early 2017 at our Test and Safety Site in Las Vegas, and we will have multiple operational Hyperloop systems within five years."
To see the complete gallery of renderings of the concept portals, pods and systems and to find out more information about Hyperloop One and the RTA agreement, please visit www.hyperloop-one.com.