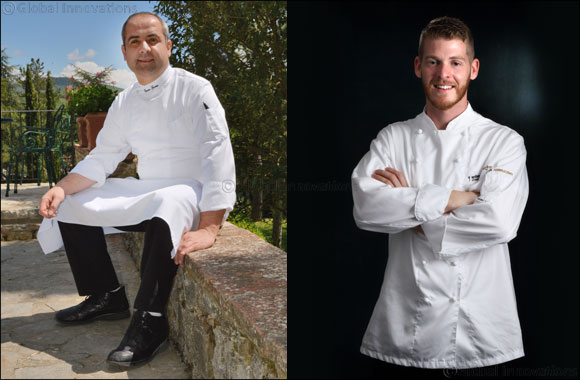 Luca Abbruzzino
Born in Crotone, Luca spent his childhood in Andali in Calabria, a small mountain town in Calabria. It is his childhood experiences here that instilled in him a lifelong love of traditional and genuine Italian cuisine; a passion that also encourages him to travel around Italy to research new tastes and inspirations. He describes his cuisine as 'pure intuition' but at the same time he demonstrates an acute awareness and knowledge of products that he uses. His inspiration is based on everyday life and traditional flavours which he revisits in modern and unexpected combinations.
Vincenzo Guarino
The youthful Executive Chef Vincenzo Guarino was born in Vico Equense and it was here on the Sorrento Coast in his grandmother's kitchen where he took his first steps in cooking. Passion for the Mediterranean gastronomic tradition, research and discipline led him around Europe, driven by the desire for perfection, refinement and experimentation, strengthening the foundations of his inspiration. Passion, meticulous selection of always-fresh ingredients, favoring local produce, quickly bore fruit with a first Michelin star, rewarding the attentive work of a creator of Mediterranean cuisine. Love for the contrast that enhances individual flavors, in a game of hide and seek, involves guests who, guided by the mastery of Vincenzo Guarino, rediscover gastronomic delights, satisfying their eyes and palates. A long journey, renewed daily, following the seasons as its golden rule, selecting excellent local produce and offering modern Mediterranean cuisine, rich with new flavors.
Pasquale Palmaro
Born on the island of Ischia in 1978, Chef Pasquale Palamaro transformed his passion for cooking into a career. After undertaking various work experience placements, a window of opportunity opened for Chef Palamaro in 2009 when he joined Indaco restaurant in the famous Hotel Regina Isabella in Ischia. His cuisine features mainly seafood and is highly influenced by the local area. Chef Palamaro was awarded a Michelin star in 2013.
Luigi Tramontano
A native of Campania, Luigi Tramontano has been able to expand the typical regional passion for the kitchen with new ideas derived from gastronomic experiences. He has collaborated with some of the most popular hotels and Italian restaurants, including the De Russie in Rome and the Grand Hotel Quisisana. The experience at 'Don Alfonso 1890', restaurant 2 Michelin stars Sant'Agata sui due Golfi, has helped to broaden his horizons, pointing to the spread of Mediterranean cuisine in the world. Japan and Central America were some of the goals of its educational visits. During his career Luigi has achived two Michelin Stars (one for 'The Flute of Pan' at Villa Crimbrone and on for 'Terrazza Bosquet at the Gran Excelsior Vittoriain Sorrento). His has a signature cuisine that combines, and exalts, the traditional local and national ingredients with elegance and vivacit. His dishes are meticulously prepared and presented with almost maniacal attention to counterpoint of textures, the colors overlap, the cooking is precise.