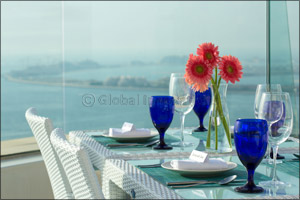 Join legendary DJ Frederick Stone and take in the Dubai skyline from the highest open-air dancefloor this November
Dubai, UAE, November 8, 2016: Pure Sky Lounge, located on the 35th floor of Hilton Dubai, The Walk, celebrates its third birthday on 24th November. In true party-style, Pure Sky Lounge will host a special event where guests can dance the night away from the highest open-air venue in Dubai. Enjoy spectacular views of the Arabian Gulf and let loose to uplifting beats from some of the most respected names in house, including legendary guest DJ, Frederick Stone.
On arrival, guests will be treated to a free welcome cocktail and complimentary Pan Asian and Western inspired canapés before beats kick-in courtesy of talents across the globe. Recently reopening it's doors for the cooler season; Pure Sky Lounge will be starting the season on high, showcasing its renowned spacious rooftop terrace, sensational cocktail making skills and tasty cuisine.
DJ Frederick Stone, who has played in top party destinations worldwide promises a night that will guarantee party-goers start the weekend the right way, playing a set of 'Deep. Driving. Melodic. Organic and Analogue' house tracks.
Commenting on Pure Sky Lounge's third anniversary Alexander Musch, Hilton Dubai Walk's Hotel Manager states 'We are thrilled to be hosting Dubai's highest open air terrace party in celebration of Pure's third anniversary, Pure Sky Lounge offers the best views in town and the night is guaranteed to be a memorable one for all!'
The exciting DJ line-up is as follows:
DJ Larson – From Holland : 21:00 – 23:00
Matt West – Saxophonist : 21:00 – 23:00
DJ Frederick Stone : 23:00 – close
Celebrate with Pure Sky Lounge from 9pm until late. Guest List Only.
Opening Hours
Sunday to Thursday from 5:00pm to 2:00am
Friday to Saturday from 2:00pm to 2:00am
(Kitchen closes at 11:30pm)