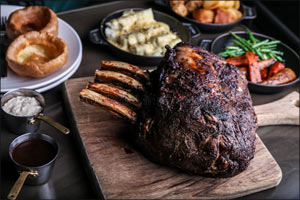 Renowned restaurant and bar, Left Bank has created an all-new British inspired menu with an international twist

Dubai, UAE, November 7, 2016: From succulent slow cooked lamb, crispy soft shell crab and Organic Scotch egg, paired with refreshing cocktails, Left Bank's new menu, features the best of great British inspired cuisine, served up with a spicy new twist.
Located in the heart of Madinat Jumeirah, the hugely popular and buzzing restaurant and bar is renowned for its serene and vibrant setting, moreish cocktails and delicious British gastro cuisine.
Left Bank's new menu features all that people adore about classic British cuisine, hearty-sized portions and wholesome, feel good food, Commenting on the new menu, Executive Chef Peter Reffell says, "The menu makes use of global spices to put a decadent new spin to classic British dishes, making it perfect for Dubai's discerning palates."
Transforming traditional concepts of British cuisine, Peter Reffell's specially curated menu at Left Bank incorporates a multitude of international flavours, styles, and ingredients, while at the same time staying true to its British roots.
Diners can tuck into a range of starters Including Cumberland veal scotch organic eggs made with house brown sauce. Crispy Salmon & Haddock Croquette drizzled with a Zesty Aioli Dressing and the Black Tempura Calamari with a Chilli Lime & Coriander Aioli cannot be missed.
Following on from the starters guests can try a 12 year Left Bank staple: The Left Bank Fish and Chips have been on the menu since the launch in 2004 and continue to be one of the most popular dishes at the restaurant. The dish is prepared using fresh, sustainable, Scottish Haddock fillet with a side of mushy peas, tartar sauce and Left Banks famous triple cooked, chunky chips.
The restaurant's signature dish from the new menu, is an exquisite sharing plate, 1.8kg of lamb shoulder, which is slow cooked for over 12 hours. Served with a delicious combination of Dijon mustard crumb, summer vegetables, Moroccan cous cous, Arabic bread and house pickles and dips, this is a must try for adventurous and seasoned tastebuds.
No meal would be complete without some great drinks either. Left Bank's master mixologists have shaken, stirred and mixed their way through thousands of cocktails to create the bar's signature drinks menu. The menu includes the Left Bank Tea Pots, available in flavours such as- Long Island Ice Tea, Raspberry Mojito and Pina colada. Also, don't forget to sample a delicious list of Tiki's such as- Maka Hula Hula, Kahoolawe, and Okole Maluna.
Left Bank is open from 10am to 2am Saturday to Tuesday and 10am to 3am Wednesday to Friday.