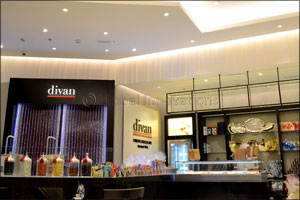 Dubai, UAE, November 1, 2016: Dessert lovers have another reason to celebrate, Turkey's leader in luxurious chocolate and fine Turkish Sweets – Divan Patisserie, launched their first Dubai store in Dubai Mall on the 26th of October. Located on the Lower Ground Level, Dubai epicureans will get to experience the finest selections of bespoke Turkish delicacies, from luscious array of ready-made hand crafted creations, to personalized exquisite blends of chocolates and macaroons orchestrated by the Turkish label.
Divan Patisserie started as a single shop within the Divan İstanbul Hotel sixty years ago and has now grown into a famous brand locally and internationally with its well-known high quality Turkish desserts. The new store will be open for guests 7 days a week at the Dubai mall from 10 am – 12 am every day.
Divan Patisserie will offer its customers special flavors with an innovative approach, with their range of products not only limited to Turkish delights but to also include chocolates infused with pistachios, almonds, coffee, coconut, truffles, macaroons in never-before tasted flavours and chocolate-covered dragees.
Spread across 150 sq.m, the latest addition to their boutique stores around the world, the Dubai Mall branch boasts a modish yet royal ambiance, providing a sophisticated and delicious break to all the shopaholics.
"As a well-known brand in Turkey with a strong heritage, we have unique tastes that sets us apart from the competition such as top quality Turkish delight including the all-time favorite chocolate coated flavors and luxury chocolate range and macaroons. We look forward to offering Dubai our rich culinary treats." said Richard Appelbaumb, CEO Divan Group.
For more information, please log on to http://www.divan.com.tr/divan-patisserie