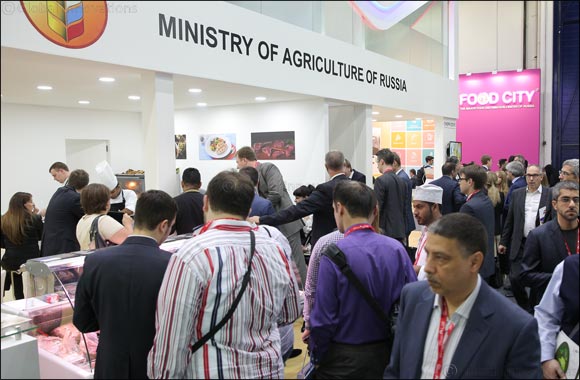 Show to herald Russia's importer-exporter transition
Dubai, UAE: A quartet of Russian food manufacturing machinery heavyweights will debut the expertise they hope will transform them from major equipment importers to exporters at next week's Gulfood Manufacturing, which runs 7-9 November at Dubai World Trade Centre (DWTC).
The four: Dito Group; Kropotkin Plant; Shokolend Co. and Unity Food Machinery will go out to demonstrate their standing at the vanguard of a Russian domestic food manufacturing revolution that is evolving the Federation from a major importer to domestic provider and exporter.
Led by Russia's Ministry of Agriculture, the four heavyweights will be in Dubai looking to expand their regional sales and partnership networks as they strive to swell their export footprint. The quartet's Gulfood Manufacturing shop window will feature bakery equipment, customisation ability for food processing machinery and equipment, high-tech equipment for the drinks, dairy and edible oil sectors, confectionery machinery and meat processing equipment.
Kropotkin Plant is also planning to unveil 3D-format container technology and demonstrate a prototype of a new advanced technology system.
Russia's official debut at Gulfood Manufacturing comes following a bilateral Russia-UAE meeting earlier this year where improving economic and trade ties between the two was highlighted. The meeting, between the UAE Federal National Council President, Dr. Amal Al Qubaisi, and the speaker of Russia's lower house of parliament, Sergei Naryshkin, saw the Russian delegation prioritise accelerated trade ties.
According to a USDA Foreign Agriculture Services report, the Russian Government has made import substitution and development of domestic agricultural production a national priority. The country's food processing sector is now benefiting from special supporting programmes to improve the efficiency of enterprises, provide diversification of production and improve the competitiveness of manufactured products. The country's overseas push at Gulfood Manufacturing comes as the relatively low value of the rouble makes Russia products more internationally competitive than ever.
"Russian participation opens up huge business opportunities for regional buyers," said Trixie LohMirmand, Senior Vice President Events & Exhibitions, DWTC. "Not only are the Russian companies looking for new distribution channels and direct buyers, they are keen to explore partnership agreements. This type of first-mover opportunity into a relatively new and emerging market typifies the essence of Gulfood Manufacturing as a business platform that opens up new business horizons which otherwise might be difficult to access."
Russia is one of four new-to-market pavilions at the sold-out Gulfood Manufacturing 2016, which will feature exhibitors from 52 countries. Other first-time pavilions will represent Indonesia, Ireland, Russia and South Africa. The four will be among 29 official national pavilions including production machinery leaders Austria, Germany, Italy, Korea, Spain, Switzerland, Taiwan and the United Kingdom.
Gulfood Manufacturing 2016 is an impressive 20 per cent larger than last year's event and will see 1,600 international food manufacturers, suppliers and industry service providers fill 13 DWTC halls. The show will be split into three specialist areas across more than 77,000 square metres of exhibition space: Ingredients Middle East; ProPack Middle East covering automation, processing equipment and packaging machinery and Logistics Solutions Middle East for firms involved in materials handling, transport, IT and technology solutions, warehousing and facilitators and service providers.
DWTC says it will also roll out its most extensive Hosted Buyer Programme for the show which will be sponsored by Tetra Pak. More than 2,000 of the region's most prominent industrial buyers are being invited to the event and supported with complimentary flights, accommodation and transport to and from the show.
The show will also host a series of specialist conferences, including the Food Logistics Forum – the region's only F&B specific logistics event to probe critical issues shaping the future profitability and sustainability of the entire food value chain.
Gulfood Manufacturing will be open between 10am – 6pm on November 7 and 8 and 10am – 5pm on November 9. Attendance, which is free-of-charge, is for trade professionals only.