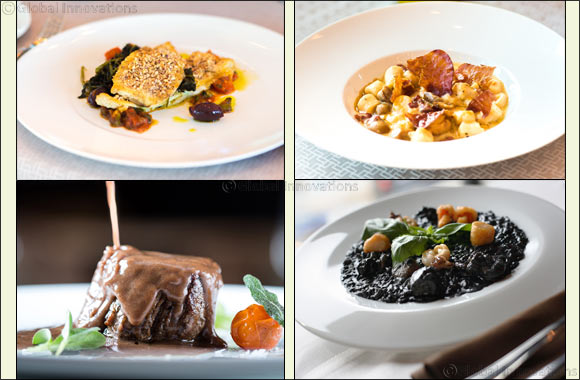 The Italian restaurant launches more than 23 new, delicious dishes and a new dining concept
Dubai, UAE, October 26, 2016: Manzoni Italian at Pullman Dubai Jumeirah Lakes Towers has unveiled a menu which has 23 delectable new dishes and a new 'create your own pasta dish' concept to reinvigorate the authentic Italian dining experience.
The intimate speciality restaurant offers a live-cooking kitchen and decorative fireplaces where diners can relax and unwind in the haven which is located on the ground floor of the five-star hotel in Cluster T of Jumeirah Lake Towers. For the cooler winter months there is also an outdoor terrace to enjoy and a cigar menu for those who would like to round off their Italian feast.
Traditional classics such as Parmigiana di melanzane, Calamarti fritti and Burrata di Andria aswell as Arancini di riso alla Siciliana and Guazzetto di mare have been added as starter options, new mains include Galletto alla diavola, Manzancolle grigliate, Branzino all'acqua pazza, Costoletta di vitello and Filetto di manzo all griglia which all come with a choice of two side dishes and a sauce, plus five new pizzas to savor at Manzoni Italian.
A new pasta dining concept offers more than 21 new combinations where guests can pick their type of pasta and sauce and then those who still have space for something sweet can enjoy three new dessert options including a white and dark chocolate soft centre cake with vanilla ice cream, buffalo ricotta cheesecake with cinnamon and fresh vanilla and a lemon flavoured crème brulee with an almond crumble.
"We are very excited for both our international guests and local clientele to experience our new menu which offers a taste of Italy," commented Fadeel Wehbe, General Manager at Pullman Dubai Jumeirah Lake Towers.
"We are particularly pleased to be offering a brand new dining concept which will give diners freedom to pick exactly the type of pasta and sauce combination they would like!" he continued.
Open for both lunch and dinner every day excluding Saturdays, for restaurant bookings please call +971 45671159 or email h6305-fb4@accor.com.