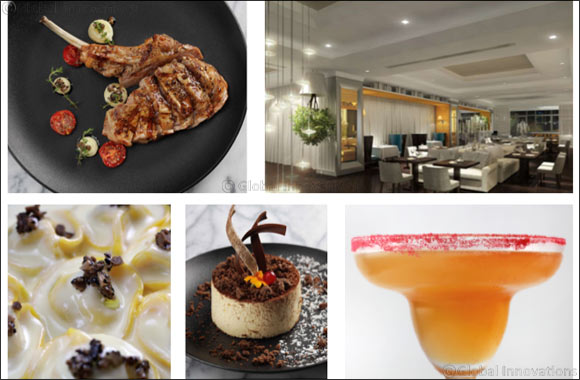 Dubai's much-loved Italian restaurant BiCE re-launches this October with a fresh contemporary look, brand new terrace and revamped menu of authentic Italian classics
Dubai, UAE, October 23, 2016: Today marks the day BiCE at the Hilton Dubai Jumeirah Beach reveals a new look complete with an outside lounge and dining terrace, just in time for the alfresco season. BiCE's much-applauded authentic menu, which made its debut in Dubai an impressive 16 years ago, has also had a refresh – giving new life to BiCE's trademark gutsy Italian flavours with a contemporary twist.
Leading the way with the evolvement of the BiCE brand, BiCE Ristorante at the Hilton Dubai Jumeirah Beach is the first in a string of its restaurants across the globe to ring in changes - with others to follow suit in the coming years. Boasting a rich history dating back to Milan, Italy in the 1920s, with almost a century of experience, BiCE continues to deliver a family feeling throughout, creating the warmest of welcomes.
Instantly appealing, the revamped interiors are open-planned with floor to ceiling windows to create a light and modern dining room complete with upside-down trees and an exposed wine cellar. The newly built bar brings the BiCE experience from inside to outside, offering a brand new garden terrace perfect for those who prefer to dine and socialise al fresco.
The menu still boasts the BiCE classics such as the favoured "BiCE-style" Canadian lobster fettucine, the Spinach-ricotta tortelli served with creamy truffle sauce and of course the Milanese veal chop "via Borgospesso", but is now complemented with a host of new dishes.
The Italian answer to tapas, the reworked menu includes mouth-watering hot and cold spartire – perfect for sharing with friends and family. Highlights include grilled octopus "À la Gallega", almond breaded turbot and king scallops, asparagus gratin with truffle brunoise. A tender 1kg Australian Wagyu rib bone & piquillo peppers that serves between 2-3 persons. Alongside a selection of simple but indulgent Italian desserts including tiramisu, homemade ice cream or sorbet, and an Italian cheese selection option, ending your BiCE culinary journey on a high note.
Commenting on the menu BiCE Head Chef, Andrea Falcone, says: "BiCE is known for its authentic Italian flavours and quality, and this has remained a key focus for us. The newly developed menu includes signature Italian BiCE dishes as well as new plate additions drawing inspiration from favourite tastes across the globe. We've also introduced a gluten-free menu and easy-to-eat sharing options to ensure there's something for everyone."
Whilst, Hilton Dubai's Cluster General Manager, Andreas Searty says, "Since entering the Dubai culinary scene 16 years ago, BiCE has been a prominent fixture in the UAE - offering guests classic Italian dishes with a unique and memorable dining experience. We are thrilled to reveal the revamped BiCE restaurant and lounge, which offers a new and exciting atmosphere within a chic setting. While the interiors have been refreshed and the menu updated, BiCE stays true to its heritage by offering true Italian flavours and quality dishes."
BiCE is the perfect location for business lunches, family get-togethers or a daytime mingle with friends - with live jazz piano from 7pm to keep the dining dynamic. From 10pm, keeping la dolce vita going, BiCE transforms into a happening evening hot spot where guests can enjoy a leisurely nighttime tipple or party into the early hours with lounge music and regular DJ sets.
BiCE opens to the public daily from Sunday, October 16th 2016, with lunch from 12:30pm to 3:30pm and evenings from 7pm until late.