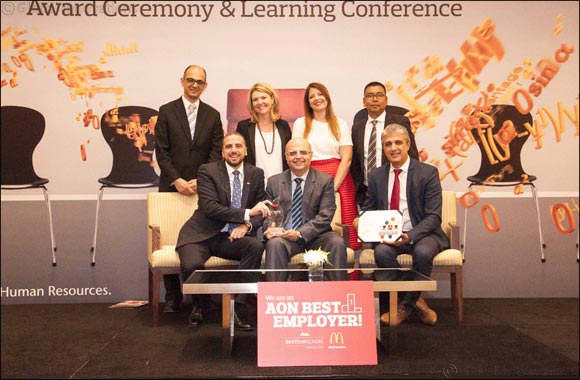 Influential accolade awarded in recognition of excellence across employee engagement, leadership, employer brandand performance culture.
Dubai, UAE, 20th October 2016: McDonald's UAE has been recognized as a UAE Best Employer in the prestigious Aon Best Employers Middle East 2016 study.
The global initiative, which has been running annually in the Middle East since 2009, is a prominent study designed to empower organizations to improve talent acquisition and retention, help drive high performance and reward employers that create outstanding environments for their staff.
Speaking at the award ceremony on Monday 17th, Walid Fakih, General Manager at McDonald's UAE said, "Aon's Best Employers Middle East 2016 award has become an international benchmark and holds a lot of gravitas. The accolade is a testament, not only to the commitment of our management and HR teams, but also a reminder of the outstanding nature of our staff.
Fakih continued, "As a local business that has always invested heavily in training, nurturing and retaining highly engaged and happy team members, we are thrilled to receive this recognition. We would like to take the opportunity to thank each and every one of the employees at McDonald's UAE for contributing to such a collaborative working environment."
The Aon Best Employers Middle East study focuses on four key areas to distinguish outstanding employers; high employee engagement, a compelling employer brand, effective leadership, and a high performance culture.
Significantly exceeding the Middle East average across every metric, the highlights of the McDonald's report included:
90% of employees are proud to be part of the McDonald's UAE organization (compared to a 79% Middle East average)
90% of McDonald's UAE employees recognise it as a socially and environmentally responsible organization with an excellent reputation among its community (91%).
86% of staff feels highly motivated to achieve more than is expected, versus the Middle East average of just 58%.
85% are inspired to do their best work consistently (regional average is only 61%).
84% of employees feel confident in the leadership's future vision (compared to 60% average) and are excited for the future (62% average).
Elias Dib, Partner and Engagement Solution Leader at Aon Hewitt Middle East, said, "McDonald's UAE displayed great results in this year's Aon Best Employers Middle East study. It is very clear that the organization is investing in the training and development of its employees. Additionally, the Middle Management team is playing an important role in supporting, coaching and helping grow the junior team. I'd like to congratulate McDonald's UAE for implementing best people practices and driving a high performance culture."
Since the launch of the first McDonald's in the UAE, the company has been committed to delivering exceptional opportunities for employees and the wider community spanning training, employee engagement and corporate social responsibility initiatives.