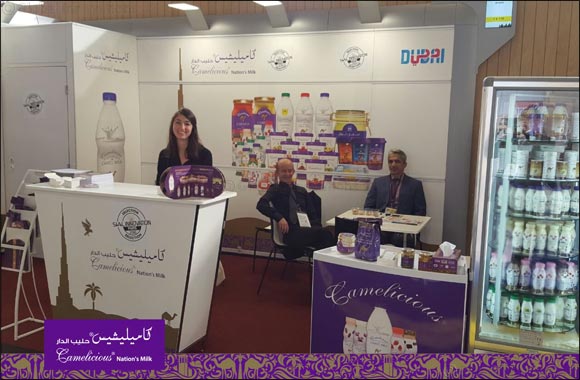 Paris, October 19, 2016: Dubai-based camel milk producer Emirates Industry for Camel Milk & Products (EICMP) and producer of the famous Camelicious "the most nutritious and wholesome drink in the dairy industry" has participated at SIAL Paris 2016, from 16 to October 20, one of the world's premier food exhibition networks, where many essential items were showcased, including organic food, dairy, and other beverages.
Together with 7000 international food exhibitors from over 104 countries, Camelicious has presented leading buyers in the retailing and food service industries with the best innovations in camel milk products and its derivatives, including but not limited to fresh plain & flavored camel milk, camel milk ice cream, cappuccino & camel milk based coffee drinks, endurance drinks, functional family drinks, cheese, labneh, ghee, and many other innovative products.
"Our participation at SIAL Paris, considered to be an international food network hub, has given us the opportunity to connect with potential distributers and consumers alike at all levels of this lucrative industry , it's a great opportunity to showcase our new lines of camel milk product range to a largely untapped audience. Mr. Saeed Juma Bin Subaih, General Manager of Emirates Industry for Camel Milk and Products, said 'With technology up to the latest standards and 4600 camels, EICMP runs the most advanced and first fully integrated camel milk production facility in the world. The EICMP processing facility, housed within the camel farm, is the world's first sophisticated camel milking plant, incorporating state-of-the-art technology and scientific research on camel breeding & milking'.
The milk production at the EICMP facilities is closely monitored to match the highest international standards. The operation obtained ISO 22000 certification for both the farm facilities and the dairy processing, and follows HACCP procedures. The whole operation fulfills the strict EU requirements for export into the European Union, in addition to Malaysia and Russia.
Mr. Mutasher Al Badry, Deputy General Manager & Business Development Manager of Emirates Industry for Camel Milk and Products, has stated that the demand for the nutritious camel products continues to rise in European markets, in sync with increasing awareness of camel milk benefits to human health. Camelicious is proud of its products and will be at SIAL Paris to highlight the benefits of camel milk and make our products available to consumers from around the world.'
added Al Badry, In coordination with the Ministry of Environment and Water, Dubai Municipality, and central Veterinary Research Laboratory (CVRL) was proudly listed as the first camel milk production facility worldwide to receive EU Commission approval to export its products to the EU zone in 2013, with an export permit to Malaysia granted the same year. Moreover, EICMP was awarded with the Malaysian Halal certification in August 2014, and ESMA Halal certification in 2015, as well as its Russian import permit granted in the first quarter of 2016'.
SIAL Paris 2016 took place on October 16-20 in Paris Nord Villepinte, Hall 7, Stand No 115.