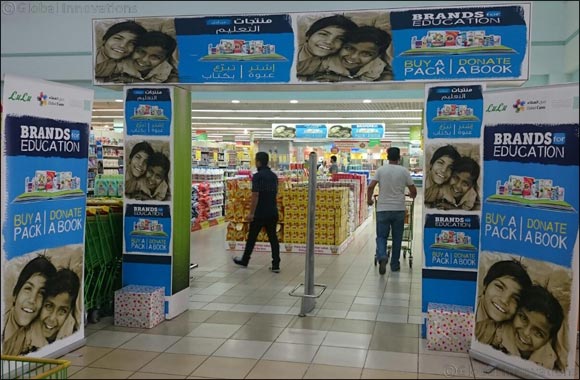 AED 150,000 donated by Procter & Gamble to Dubai Cares towards the purchase of books for children in need
Dubai, UAE, October 19, 2016: Shoppers at LuLu Hypermarkets across the UAE have played an integral role towards the donation of AED 150,000 to Dubai Cares as part of a cause-related marketing campaign that ran from September 24th to October 2nd 2016. The campaign, which aims to support reading and literacy for children in developing countries, consisted of a partnership between Procter & Gamble (P&G), Lulu Hypermarkets and Dubai Cares, wherein for every select P&G brand purchased during the ten days throughout LuLu Hypermarkets in Abu Dhabi, Dubai and Sharjah, P&G made a donation to Dubai Cares towards the purchase of books for children in need.
The campaign, which was a first between LuLu Hypermarkets, Dubai Cares and Procter & Gamble, was very popular among shoppers in the UAE, which underlines the importance consumers place on supporting charitable causes. "We've been surprised by the level of support that our customers have shown towards this campaign," said Shabu Abdul Majeed, Director for Retail Operations at LuLu Group International. "They've told us, 'we want to see more initiatives that will empower those in need, particularly children.' We were delighted to have introduced this concept with P&G, and come up with a cause that will have such a positive impact on education for future generations."

Speaking on behalf of Dubai Cares, His Excellency Tariq Al Gurg, Chief Executive Officer of the organization added: "Education is critical to every child's development and yet, millions of children around the world do not have access to quality education. This deprives them of the foundations required to develop their skill set, achieve professional and social success and raise their personal and community's potential. This campaign, in partnership with Procter & Gamble and LuLu Hypermarkets, has not only helped us raise funds that will provide books for children in need, but has also helped raise awareness about the role education plays in empowering children, their families and their communities."
As part of its global commitment to sustainability, P&G runs initiatives that are designed to improve the lives of children and their families. This education-focused campaign, which was designed specifically with LuLu Hypermarket shoppers in mind, is set to run again in the coming year.
"As a company, our goal is to improve the lives of consumers worldwide and concepts such as this give our shoppers an opportunity to do the same," said Khaled Adawi, Director for Procter & Gamble in the Arabian Peninsula. "We're grateful for our engagement with both Dubai Cares and LuLu Hypermarkets, which has enabled us to bring this concept to life. We're even more grateful to LuLu Hypermarket shoppers for their overwhelming support. On behalf of P&G, I'd like to say thank you."