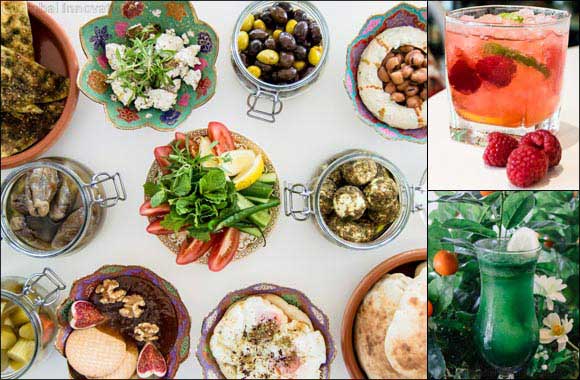 From Beirut with love…
Dubai, UAE, October 16, 2016: Bringing the true taste of traditional, authentic Lebanese food with a fresh twist to Dubai's iconic World Trade Centre, Mazaher Café, has recently opened its doors, inviting visitors to enjoy honest, home cooked meals in a casual and authentic setting – just like you'd find in Beirut!
Guests will feel as if they've wandered off a street in the Lebanese capital and stepped into a relaxed street café to soak up some atmosphere. Whether meeting a friend for lunch, catching up on the daily newspapers, or simply grabbing a strong Turkish coffee before work, Mazaher Café injects glamour into the simplest of offerings, serving iconic Lebanese flavours in new and innovative ways.
Open from 8am for early risers, Mazaher Café offers a variety of breakfast favourites, ranging from Lebanese Eggs, an indulgent portion of crispy Arabic bread with fried eggs topped with sumac and thyme to organic yoghurt topped with pomegranate and orange blossom water. Designed with the discerning diner in mind, the café's authentic menu of Lebanese and Middle Eastern cuisine exceeds tradition, where guests can indulge in freshly-baked Manakish with a selection of toppings or a range of hot and cold mezze to share with family and friends over a casual lunchtime occasion.
To satisfy the sweet tooth, try the irresistible Orange Blossom Rice Pudding or the Kashtaliya, the famous Mazaher milk pudding topped with fig jam, crispy hallawa and secret Mazaher syrup for the ultimate treat.
With all dishes available for take away, whether you're craving dessert for dinner or breakfast for lunch, Mazaher will box up your favorite dishes to enjoy from the comfort of your own home.
Located next door to the Mazaher restaurant, the café oozes urban charm with decorative ceramic tiles and a generously stocked retail space offering a selection of home-made Lebanese products. From sticky pomegranate molasses to marinated olives, home-made pickles, and fresh labaneh, make sure to stock up on your hometown favourites.
Adding a distinctly contemporary twist to traditional Lebanese décor, the space indulges an inviting, colourful garden, with a mature olive tree casting familiar shadows over intimately arranged and mismatched tables. The cozy café offers the perfect balance of privacy and interaction with other guests, creating a welcoming atmosphere for all the family.