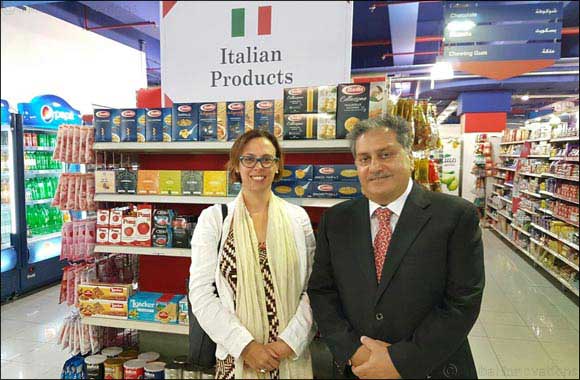 AL MAYA GROUP TO ADD MORE PRODCUTS TO ITS EXISTING ITALIAN RANGE OF FMCG GOODS
Dubai, UAE, October 12, 2016:
Consul General of Italy, H.E. Mrs Valentina Setta visited Al Maya Supermarket at Murooj Complex, informed Mr Kamal Vachani, Group Director, Al Maya Group.
Al Maya Group Director, Mr. Kamal Vachani, informed the Consul General about the relationship with the Italian companies, which goes back to many years. Al Maya Group imports a large variety of products from Italy. Mr Kamal Vachani mentioned to Consul Genral that we will take all steps to ensure to import more and more products from Italy for marketing through Al Maya Supermarkets.
Mr Kamal Vachani further added that we have participated in CIBUS EXHIBITION 2016, a key event of the agri-food sector, which was held in Parma, Italy and a number of business transactions have been materialized with the suppliers during the Fair.
Consul General of Italy, H.E. Mrs Valentina Setta appreciated the efforts taken by the Al Maya Group in bringing FMCG products from the Italy.
Mr Kamal Vachani thanked H.E. Mrs Valentina Setta for taking out time to visit our Supermarket.