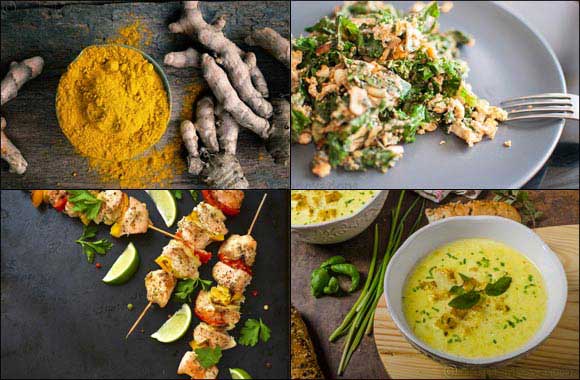 Dubai, UAE, October 9, 2016: Turmeric, the Queen of Spices, contains curcuminoids which has anti-inflammatory properties and is a powerful antioxidant. This can help with repair and damage of muscle tissue and protection against illness. As an antioxidant, it can help to protect the body from free radicals. It is also loaded with many healthy nutrients such as protein, dietary fiber, niacin, Vitamin C, Vitamin E, Vitamin K, potassium, calcium, copper, iron, magnesium and zinc.
Turmeric can be used in the treatment of diabetes by helping to moderate insulin levels. It also improves glucose control and increases the effect of medications used to treat diabetes. Another significant benefit is turmeric's effectiveness in helping reduce insulin resistance, which may prevent the onset of Type-2 diabetes.
The New Atkins's Lifestyle Nutritionist, Linda O'Byrne shares her favourite Turmeric recipes that make for delicious meals.