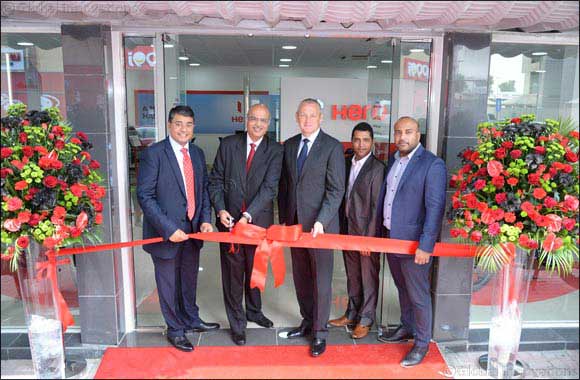 Dubai, UAE, October 4, 2016: Hero MotoCorp Ltd (HMCL), the world's largest two-wheeler manufacturer, has appointed Al-Futtaim, one of the most diversified conglomerates in the United Arab Emirates (UAE) with a constantly expansionary outlook, as its distributor for the Gulf Cooperation Council (GCC) region.
Mr. Colin Cordery of Al-Futtaim and Mr. Deepak Mokashi, Head – Global Business, Hero MotoCorp, today jointly inaugurated the first Hero showroom in the UAE, located at the Airport Road in Deira, Dubai. The Service Center is located in Rashidiya.
The association aims to capture a sizeable market share in the GCC region – comprising of Bahrain, Kuwait, Oman, Qatar, Saudi Arabia and the United Arab Emirates (UAE) – a rapidly- growing two-wheeler market.
Mr. Colin Cordery of Al-Futtaim said: "Al-Futtaim's portfolio comprises some of the world's most-recognised and widely respected automotive brands, and it is only fitting that we partner with Hero MotoCorp - the world's largest manufacturer of two–wheelers. Our partnership with Hero MotoCorp further cements our position as the preferred automotive partner in this fast growing region."
Mr. Deepak Mokashi, Head Global Business, Hero MotoCorp said, "Hero has over the past five years rapidly augmented its presence across the globe. We are currently present in 33 countries and now with our entry in the GCC region, we have taken yet another important step in our global journey. This is an important market for us and we are excited to partner with Al-Futtaim. Our partnership with them will enable us to increase our reach in the region and allow us to fulfil our customers' needs with the highest standards of excellence."
For the past 15 consecutive years, the New Delhi (India)-headquartered Hero MotoCorp has remained the world's largest two-wheeler manufacturer in terms of unit volumes sold by a single company in a calendar year. The company sold over 6.63 million two-wheelers in the last financial year (FY'16). Since its inception in 1984, Hero has sold over 70 million motorcycles and scooters in cumulative sales.
Hero MotoCorp currently sells its products in 33 countries across the world. The company has four plants in India and one in Colombia. Hero's second manufacturing facility at a global location is coming up in Bangladesh, which will become operational later this year. The company's world class state-of-the-art R&D facility – the Centre of Innovation & Technology (CIT) – is located in the northern Indian city of Jaipur, and was built with an investment of US$126 million.
Hero MotoCorp has been associated with various disciplines of sports including golf, cricket, field hockey and football for over two decades now. Fourteen-times major winner Tiger Woods is Hero's Global Corporate Partner.