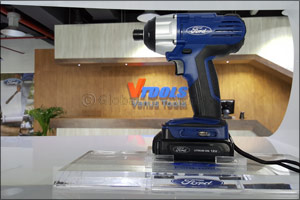 Dubai, UAE, September 29, 2016: This month see's Ford Tools and Ford Power Equipment in partnership with VTools launch their first exclusive store in Dubai. VTools has been appointed as the exclusive distributor of Ford Tools and Ford Power Equipment in the Middle East.
Whether you are a DIY enthusiast, tradesman or professional contractor, Ford Tools and Ford Power Equipment delivers to you a high quality product at a reasonable price.
Mr. Ahmad Sorayanejad, CEO at Venus Tools, highlights, "We are very proud to bring Ford Tools and Ford Power Equipment to the region. With the Ford brand comes a guarantee of quality and great performance, every Ford Tools product is carefully designed to improve the working comfort of the end user. Innovation, Performance and Safety are the main attributes of Ford Tools and Ford Power Equipment product."
Vtools in partnership with Nine and Pulsar with years of experience brings a complete range of Ford branded power tools, hand tools, garage tools, lighting, gasoline & diesel generators, electric & gasoline pressure washers and water pumps to the region, guaranteeing all products are manufactured with good quality, performance and affordability.
Speaking about the collaboration, Mr. Kenneth Linde, Executive Vice President and General Manager of Pulsar Official Licensee for Ford Power Equipment explains, "The marriage of our company and Ford has resulted in the globally successful addition of a premium product range for the entire world, with a world-recognized brand sold at a reasonable, yet profitable, price that all adds up to one thing…incredible value…that is supported by a global parts and service network that ensures customer satisfaction today and for years to come."
Ford Tools is now available at Carrefour, Ace Hardware and major retail outlets in the Middle East.
Venus Tools is the official distributor of Ford Tools in the GCC and CIS
About Venus Tools: Venus Tools is a branch of Venus Machinery and Engineering Equipment (established in 2011) and part of a large group of companies in the Middle East. The group enjoys a solid financial background and a history of conducting businesses dating back to early 70's. The group's portfolio of companies is diversified and active throughout the Middle East, Africa and parts of Asia.
About Ford Tools: Our team of experts at NINE HKG Ltd., with over 20 years of experience in the development and production of quality tools, has joined forces with the Ford Motor Company in order to develop a unique line of products that honors the legacy established by Henry Ford in terms of production of dependable and affordable goods.
Store Address: Showroom 15, Ras Al Khor Complex, Nal Al Hammar, Dubai, U.A.E, P.O.Box 26066