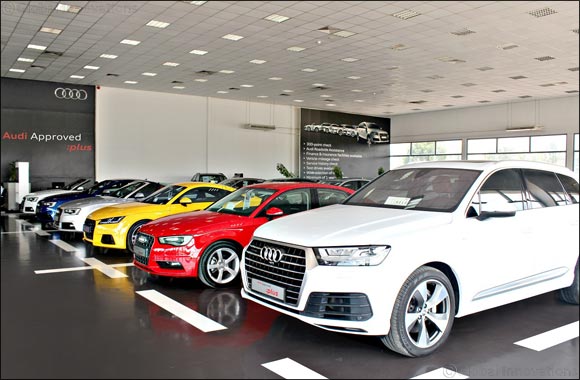 Abu Dhabi, 22 September, 2016: Ali & Sons, the official Audi dealer for Abu Dhabi and Al Ain, has announced a new and bespoke finance plan called 'Solutions', for customers purchasing a pre-owned Audi Approved: plus vehicle.
The new 'Solutions' finance plan administered by A plus Financial Services, the branded financial service provider for Audi, is a bespoke programme that allows customers to get in the driving seat in the simplest and most affordable way possible. 'Solutions' is an exclusive 2-year plan with a guaranteed buy-back option, now available for all Audi lovers in the UAE. The unique 'Solutions' programme enables the customer to benefit from low monthly payments as well as giving them the opportunity to upgrade their Audi after two years.
To benefit from the plan, customers need to simply agree on a deposit, followed by 24 monthly payments that are fixed and at a lower monthly cost than conventional finance. At the end of the contract, customers are able to choose between three options: trade in their vehicle and upgrade to a new or used Audi, keep their vehicle and pay off the remainder of its value, or sell it back to Ali & Sons Audi under a buy-back guarantee.
Mark Austin, General Manager of Ali & Sons Audi, said: "Owning an Audi has never been easier or more affordable than with this new 'Solutions' finance plan for Audi Approved: plus used vehicles. Offering very low monthly payments and a guaranteed buy-back, 'Solutions' finance gives our customers complete peace of mind. We are very excited to be launching such a flexible, affordable initiative specifically for Audi used cars.
Gareth Burnett-Jones, Managing Director of A plus Financial Services, said: "The partnership with Ali & Sons Audi is in line with our philosophy of providing attractive and intelligent financing solutions to Audi customers. We are confident that the introduction of the programme will be an excellent value benefit to our customers in terms of flexibility and peace of mind motoring, all packaged to ensure outstanding savings."
In order to qualify as an approved 'Audi Approved: plus' vehicle, pre-owned Audis must be less than three years old with mileage under 100,000km, and must pass Audi's multi-point check- comprising of 300 inspections. Once approved, vehicles are available from Ali & Sons' 'Audi Approved: plus' showroom in Musafah, with the largest selection of vehicles in the Middle East. Eligible vehicles for 'Solutions' are all between 6 and 24 months old, with a maximum mileage at the start of the contract of 30,000km.