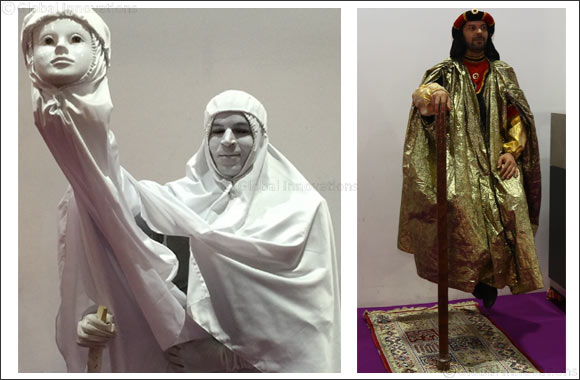 Keep your eyes peeled for the floating man and the two-headed man while shopping at the consumer fair
Dubai, UAE, June 28, 2016: Temperatures may be soaring, but the spirit of Ramadan Night Market soars even higher at Zaábeel Hall 5, Dubai World Trade Centre. The popular night market, that keeps its doors open from 8pm to 2am from June 23 to July 2, continues to attract thousands of fun-enthusiasts courtesy a plethora of activities across a wide range of interests. The ambience already cackling with energy takes an interesting turn with this year's street entertainment: the living statues of floating man and two headed man. When you are tired shopping and eaten to the full, unwind yourself by posing for some quirky pictures with these silent performers, who are all set to steal your heart away.
Suspended in thin air, the floating man has already drawn long, amazed glances for his perfect poise and balance, as he hovers above the ground supported just by his magical cane. The two-headed man, on the other hand, has certainly proven that two heads are better than one, especially if one is interesting in clicking away selfies. His more the merrier approach has won him numerous fans at the market. Both the living statues are an incredibly versatile form of entertainment and the sky is the limit when it comes to the charming and wholly unique bespoke creations.
"The living statues have always been a popular feature of Ramadan Night Market, creating a unique entertainment zone for one and all. So keep your eyes peeled for our star mascots!" said Samantha Cordeiro Miranda, Brand Manager, Sumansa Exhibitions.