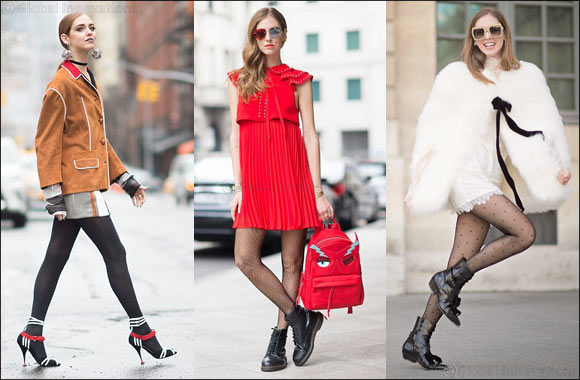 Dubai, UAE, April 23, 2016
1. Your career as a blogger in 5 essential milestones
2009: I founded theblondesalad.com, received my first invitations to fashion shows and was offered projects from a few brands
2011: the TBS crew was launched and so began the adventures with my team. We also received the first international awards.
2013: theblondesalad.com evolved into an online magazine and our social media strategy changed; our Instagram profile reached millions of followers
2014: the first magazine covers, increasing to 27 covers the following year, including the first Vogue cover
2015: the Harvard business case; a Forbes nomination, as the only Italian woman in the 30 under 30
2. Can you tell us about the day you decided to start your blog?
It was really a decision that came about after a lot of consideration. I had already been posting in various online communities for years and had lots of followers. Then Richi gave me a final, encouraging push by buying the domain while he was in Chicago! It all began from there.
3. The look you'll never forget and why:
The one for my first red carpet appearance in Cannes, wearing Alberta Ferretti. It was intensely emotional and unforgettable.
4. You've transformed your passion into a job as well as a new profession. Can you tell us about the moment when this became clear?
At the start, nothing was definite; it wasn't even what I set out to do. Then the first offers began arriving and I understood that this could be a source of income - but from the start I've put passion first and foremost and I've always been uncompromising on which work offers I accept. I've always dictated my own rules.
5. What do you remember about your first fashion show?
It was surreal and so different live, compared to the videos I had watched beforehand. In any case, it was thrilling, a dream come true.
6. A childhood memory connected to fashion
As a teenager, I'd say, when I began wanting the handbags that my mother carried. I'm thinking about her Chanel handbags, or her Louis Vuittons. Now that I think of it, I've always been tempted by accessories.
7. Hosiery: 5 adjectives to define it
Comfortable, quality, sexy, trendy, amazing
8. Is hosiery essential for a nude look also?
I see it more as a way to complement other looks… but why not? Nude look as well!
9. Your iconic hosiery
Fishnets
10. The hosiery that you would never have imagined yourself wearing
Polka-dots :-)
11. The perfect hosiery for every type of shoe, what do you recommend?
Sheer stockings
12. When can hosiery make all the difference?
Often. I think it immediately adds character to a look and gives it an entirely different style.
13. A film with an iconic scene where a character is wearing hosiery: what comes to mind?
Any film with Sofia Loren
14. 3 adjectives you'd use to describe Calzedonia
Italian style, iconic, trendy… I have chosen 3 exceptional looks from the Spring/Summer 2016 collection and featured them as this season's favourites
15. As an Italian fashion icon, how much do you like to maintain a connection to your "Italian-ness" / how much does your being Italian come over in your looks?
I feel my style is definitely Italian. Even if it's influenced by international inspiration, I feel - and always will feel - Italian, and am proud of it.