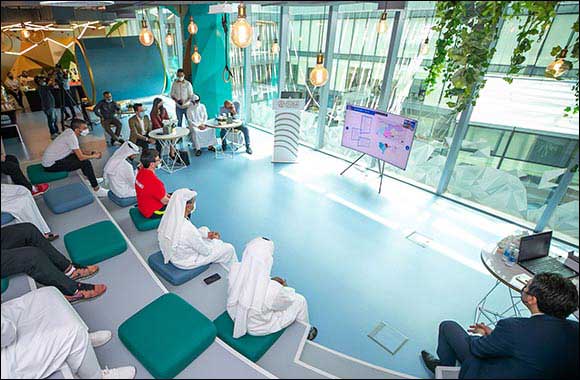 September 30, 2021: Dubai Sports Council, in collaboration with Spanish La Liga, organised an international forum titled 'The Importance of Developing a Club Philosophy and Style of Play' for affiliated Dubai clubs and football companies earlier this week.
His Excellency Saeed Hareb, Secretary General of Dubai Sports Council, opened the forum, which was held in Dubai Sports Council and online with a number of board members, executive directors, administrative officials, technicians, supervisors, academies directors and coaches of Dubai football companies present in person alongside Maite Ventura, Managing Director of LaLiga's MENA operations, and Daniel Barriga Caballero, the LaLiga delegate for UAE.

More than 45 coaches and specialist from both inside and outside the UAE participated in the forum virtually.

HE Saeed Hareb said the forum was being organized under the framework of Dubai Sports Council's efforts to develop Emirati technical and administrative staff working with Dubai clubs and football companies, and he urged participants to make maximum use of such forums for their benefit, and create appropriate models as per the situation of each club and football company and their goals.

The forum also featured Roberto Olabe, the Sport Director of Spanish club Real Sociedad, and Carlos Casal, LaLiga's Senior Sports Project Development Specialist. The duo addressed the forum from Spain through video conferencing, with Olabe speaking about Real Sociedad's club philosophy, style of play and recruitment process, and Casal talking about adapting players and coaches to club philosophy, and gave examples of different club philosophies and styles of play in the LaLiga.

With an experience of more than two decades as head of the sports departments of LaLiga clubs such as Real Sociedad or UD Almeria, Olabe has been one of the key figures in the development of Real Sociedad technical structure, which has one of the best youth systems in Spain constantly developing young players to play in the first team.

Casal has spent his career developing grassroots projects in China, as well as helping many federations to create their own programs. As part of the LaLiga Sports Project Department, Carlos is in permanently contact with LaLiga clubs to coordinate the development of the clubs and assist them in making decisions in organizational and strategic terms.