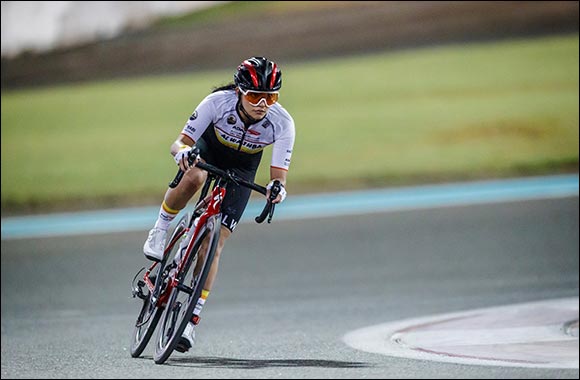 Abu Dhabi's Cyclists Show Amazing Support for UAE Team Emirates at ADNOC event
July 18, 2021: As the Tour de France moves into its final phase with UAE Team Emirates' Tadej Pogacar still firmly in control of the race, the UAE's cycling community came together to cheer on the team at a special event at Yas Marina Circuit.
Tour de Yas, which was organised by the Abu Dhabi National Oil Company (ADNOC), saw their weekly Train Yas event rebranded as it hosted an open screening of the Tour de France alongside a 2.3km amateur Time Trial.
More than 200 riders of different ages, gender, nationalities and cycling abilities challenged themselves to race against the clock for a chance to win signed prizes from Pogacar and his teammates, who will tackle their own 30.8km Time Trial from Libourne to Saint Emilion later today.
"As a proud partner of UAE Team Emirates, ADNOC is committed to promoting and enabling a healthy lifestyle among the UAE community, by providing opportunities for the whole community to be active," said Abdulmunim al Kindi, Executive Director, People, Technology & Corporate Support Directorate at ADNOC. "I'd like to thank everyone who joined us to celebrate the UAE team's performance and achievements so far. Congratulations to those cyclists who participated at the event and to all the worthy winners."
Everyone who participated at the Tour de Yas event was entered into a draw to win the star prize, a framed UAE Team Emirates jersey signed by the 2021 Tour De France squad. The worthy winner was 15-year-old Omar Talaat who said: "It was an honor to win the jersey. I see it as an encouragement and inspiration that maybe one day I could represent the UAE in the Tour De France."
UAE Team Emirates' Matteo Trentin, who joined the event via a live video link said: "It was great to see so many cyclists showing support for the team. It means a lot to the riders to know they have a whole nation cheering them on whilst they race in the world's biggest bike race."
The overall winner of the Time Trial was Emirati rider Mohammad Subaih from the UAE Trek team, with a lap record of 02:54.06, which also secured him the top spot in the male masters category. The fastest female of the night was Australian Maddison Black from Team Yasi with an impressive lap time of 03:29.70 in the female senior category.
In the junior male and female categories, the first place prizes were awarded to Emirati rider Hamad Al Hosani from Abu Dhabi Cycling Club and Canadian rider Maya Talaat with times of 03:14.40 and 05:22.70 respectively.
Team Yasi's Eritrean Tesfom Okubamarium Issak topped the male senior category with a time of 02:56.40, whilst Melanie Bowman of Australia took first place in the female masters category with a time of 03:31.40.
Prizes were also given for the most laps completed during the event, with Marc Shultz of Team Wolfis taking the top step on the podium after completing 32 laps in just over two hours and 43 minutes of track time.