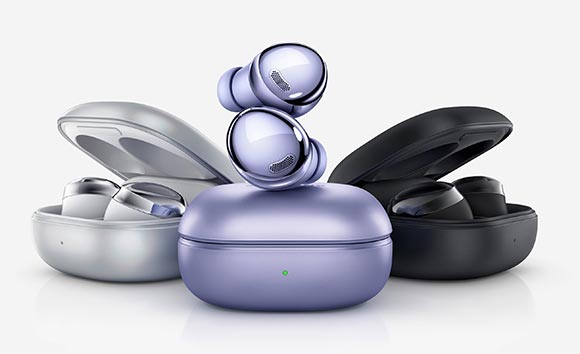 July 08, 2021: For every tech enthusiast with a smart device, there has never been more freely accessible content than today. To complement every experience, certain accessories have also been introduced – innovations that add the finishing touches to consumer empowerment and enjoyment. With a unique ability to improve users' daily lives as they stream content, watch videos, and listen to music or podcasts, wireless earphones are one such accessory. Comprising cutting-edge software and hardware, wireless earbuds have become an "all-in-one" audio solution, delivering outstanding sound experiences that elevate immersion and satisfaction to newfound levels.
However, the sound evolution is far from concluded, and the latest chapter is currently unfolding before us. The universally acclaimed Galaxy Buds' latest generation – the powerful Galaxy Buds Pro - continues to re-define audio accessory performance, elevating end-user experiences while providing more clarity and immersion than ever. Equipped with cleaner call quality, Active Noise Canceling, and a comfortable ergonomic design, Galaxy Buds Pro has set new standards in the wireless earphones world, bringing listeners closer to their audio than ever before. So how is this possible? And what can Samsung lovers yet to purchase their Galaxy Buds Pro expect? Here, we provide the answer to these questions:
Sublime audio quality
The number one earphones feature will always be sound quality. As such, Samsung has gone above and beyond to redefine audio barriers. The most notable advancement with Galaxy Buds Pro is cleaner and clearer sound than those that came before, with dynamic vocal range and an authentic, smooth balance for natural-sounding audio across genres. At the same time, they exceed expectations in other ways. Drum kicks are clear and punchy for low-pitched content, high-pitched sounds carry surprising detail and openness, and deep sound capabilities mean the earphones are perfect for tracks with heavy bass. Dual concentric drivers also play a major role in delivering a sense of space with Galaxy Buds Pro. The earbuds are equipped with a two-way driver consisting of a 6.5mm tweeter and 11mm woofer. Samsung has developed an all-in-one two-way driver that places the tweeter at the center of the woofer, improving sound efficiency and raising sound quality to a new level.
Empowering Active Noise Canceling
Galaxy Buds Pro comes loaded with functions that help to deliver an immersive sound experience, including Active Noise Canceling. A 'must-have' for high-performance wireless earphones, Active Noise Canceling empowers you to hear the sounds you want to hear and eliminate those you do not. The beauty of Galaxy Buds Pro's natural noise cancelation capabilities is attributed to the low-pitch range, which helps to cancel out unwanted sounds by generating sound waves that have the same wavelength as the external noise but move in the opposite direction. While other earphones tend to focus on eliminating noise in the mid-to-low band frequency, Galaxy Buds Pro covers a wider spectrum, eliminating unwanted sounds in the high-pitch range as well.
Elevated conversation and detection standards
For years, every tech-savvy consumer has experienced the inconvenience of music being interrupted and removing headphones to speak with somebody. Innovation is all about valuable reform, precisely why Galaxy Buds Pro provides a solution to this long-standing occurrence. Thanks to the conversation detecting function, the earphones automatically turn on Ambient Sound by recognizing your voice when you start speaking. This makes it possible to communicate with people around you – even when your music is playing. What's more, Galaxy Buds Pro detect when you haven't spoken in a while, intuitively assuming that your conversation is over before switching back to Active Noise Canceling. And then there's the substantial call quality improvement. Galaxy Buds Pro use three microphones to provide better value, including a high-sensitivity microphone and voice pickup unit. When used indoors, they match the quality of a speaker and microphone on a smartphone. When used in noisier environments, clean and clear calls take place without a drop in clarity.