Backed by AI and top-tier energy efficiency capabilities, the latest innovative range will empower Samsung fans with customized eco-friendly features and technologies for laundry purposes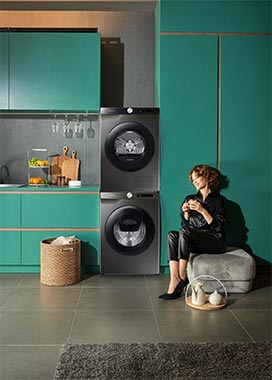 Dubai, UAE – 5 July 2021: Samsung Gulf Electronics today announced the launch of its all-new smart laundry lineup, the innovative collection powered by artificial intelligence (AI) that comprises top-tier energy efficiency capabilities. Headlined by the brand's new AI EcoBubble™ range and developed to complement today's lifestyle, make life easier for consumers in the UAE, and present greater convenience than ever before, the line-up will customize laundry processes and achieve desired results with less time, energy, and effort. Samsung's Add Wash™, EcoBubble™, QuickDrive™ technologies also form part of the lineup, presenting consumers with their biggest opportunity yet to re-imagine laundry at home.

"At Samsung, we have always been driven by our commitment to present brand enthusiasts with products that boost lifestyles and cater to every demand and expectation," said Burcin Arabul, Director of Home Appliances at Samsung Gulf Electronics. "With cutting-edge performance and leading technological capabilities, our smart laundry lineup will empower customers to implement sustainable actions into their daily lives, ensuring they fully benefit from eco-friendly processes in their households. Now more than ever, customization is important to those we serve, and we look forward to the positive response to this latest offering."

Smart washing machine appliances have risen in popularity in recent years, establishing themselves among the most in-demand appliances thanks to the effectiveness and efficiency of several smart features. Their growing appeal is also emphasized through recent statistics, which indicate further segment expansion in the years ahead. The smart homes technology market in the GCC has experienced notable annual growth in recent years and is expected to surpass USD 3.4 billion by 2025, due to technologies such as AI, according to Research & Markets. Technological advancements and innovative projects will drive such growth in due course, with Samsung's smart laundry line-up sure to set new standards and consumer expectations.

AI is the gateway to greater convenience
Adding to Samsung's reliable performance is artificial intelligence, which learns users' behavioral patterns to recommend cycles and offer a truly personalized laundry experience. With AI Control, the new Samsung washer familiarizes itself with user preferences and combines that knowledge with big data to provide the industry's first automatic suggestion of wash cycles on its display. Paired with a simple user interface, AI Control eliminates the need for users to scroll through cycles to find the right one, or to input their individualized settings each time. The AI Wash feature uses sensors to detect the laundry load's weight and determine the optimal amount of water and detergent to dispense. The user convenience extends to the drying process with Auto Cycle Link, which pairs compatible washers and dryers directly to set the best dryer cycle for each load automatically. Furthermore, all of the appliances in Samsung's new laundry lineup are compatible with SmartThings, offering users control over laundry settings from their smartphone and features like Laundry Planner and Laundry.

Valuable benefits bring new meaning to household laundry
The new AI EcoBubble™ range brings together Samsung's most powerful technologies that cut down on wash times and energy consumption while providing users with a personalized laundry experience. Samsung's revolutionary QuickDrive™ technology cuts washing time by up to 50% and energy usage by 20%. The independently moving drum and backplate allows for more dynamic actions, cleaning garments more thoroughly in less time. Moreover, Samsung's Digital Inverter Compressor adds to energy efficiency, utilizing strong magnets for quieter and stronger performance while using less energy compared to a universal motor. The new washers also come with Samsung's EcoBubble™ technology that maximizes the effect of detergent by turning it into soft bubbles – allowing for faster penetration into fabrics, even in cold water. Colder washes save heating energy while also protecting the fabrics and colors of garments. Hygienic cleaning of the highest quality will also empower consumers thanks to the Hygiene Steam function, which improves cleanliness quality of every wash without pre-treatments. Steam is released from the bottom of the drum, thoroughly saturating every item with a deep clean, removing ingrained grime, and eliminating 99.9% of bacteria and allergens. And then there's the Add Wash™ function that offers another valuable benefit. Washing cycles can be paused to add additional items at any time, meaning there's no need to panic should any clothes be missed or forgotten beforehand.