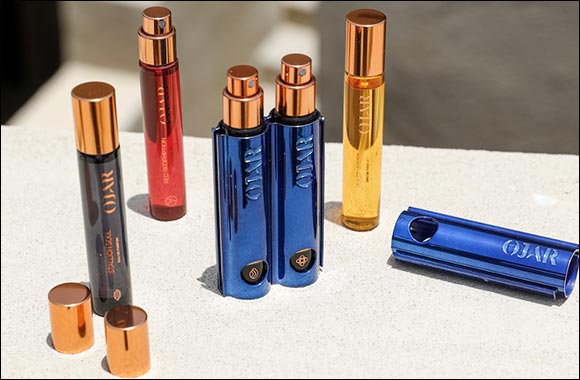 OJAR is expanding its offering with an 18-fragrance collection of Eau De Parfum Sillage Boosters created by renowned Swiss Perfume House Givaudan; the brand's second innovation since OJAR launched their hero product Absolute in October 2020.
Founded by Sheikha Hind Bahwan, OJAR captures the soul of the Middle East and the Occident, exquisitely combining them in a perfect fusion that balances heritage and modernity.

OJAR pays tribute to the Omani culture and heritage with a unisex collection of 18 unique fragrances based on six main ingredients: rose, oud, sandalwood, honey, musk & frankincense. Of which, three are precious ingredients that take inspiration from Oman.

The hero product of the brand is the iconic Absolute, an innovative bottle that magnifies the perfume oil gesture with a never seen double cap usage.

LEAVE A FRAGRANCE TRAIL WITH OJAR EAU DE PARFUM SILLAGE BOOSTERS

With innovation and creativity at the center of the brand, OJAR's latest product launch of 15ml Eau De Parfum Sillage Boosters are designed to complement & boost OJAR Absolute whilst on the go and encourage the layering fragrance ritual popular in the Middle East.

OJAR is reinforcing the uniqueness of this new category with an OJAR blue layering ring accessory to accompany the colourful 15ml Eau De Parfum vial. Encouraging the consumer to plug together and layer two or more fragrances to create their signature scent in an innovative and dynamic way.
Bringing the rituals of Middle Eastern fragrance layering to the forefront with a creative, innovative collection of travel-friendly Eau De Parfum Sillage Boosters to complement the OJAR Absolute.

Full collection now available at the OJAR e-shop
PRICE | Eau de Parfum 15ml with complimentary layering ring | 210 AED