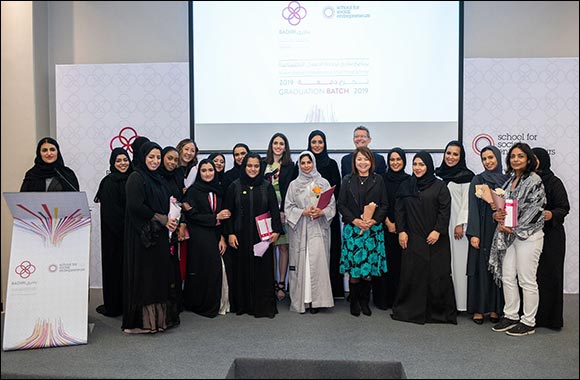 Due to popular demand, the new edition of The Badiri Entrepreneurship Programme will launch in Q3 to coincide with the 2021-22 academic year

Sharjah June 09, 2021
Badiri Education and Development Academy (Badiri), the education and capacity building arm of NAMA Women Advancement Establishment (NAMA), has announced the extension of the application period of the inaugural edition of the Badiri Entrepreneurship Programme (BEP) to mid-August 2021.
In response to popular demand and alignment with the academic year starting September 2021, registration for the programme will now be available till August 15.
BEP 2021, which was announced on March 24 by the Badiri Academy via a virtual press conference, aims to empower aspiring as well as established female entrepreneurs in the UAE to launch, strengthen and expand their ventures by developing certain skill sets in business and leadership.
The 7-month programme will take a hands-on approach to boost economic opportunities for the participants by providing tailor-made tools and the knowledge of global best practices in entrepreneurship. The programme will feature 6 learning modules, 7 workshops and onsite project visits to enable practical learning alongside one-on-one mentorship. All BEP alumni will be supported by the Sharjah Business Women Council (SBWC) in setting up their businesses.
Admission criteria
Female citizens and residents of the UAE aged 21+ who have a business idea they wish to develop are eligible to join the programme. They must hold a secondary and/or higher education certificate and be proficient in written and spoken English. Applicants must also commit to the full programme by attending online lessons and be available for in-person project visits.
To register, the application form available on the Badiri website https://www.badiri.ae/en/bep?utm_source=Press should be filled out and submitted along with a detailed brief of the applicant's business idea. After reviewing the applications, Badiri will hold virtual interviews with shortlisted candidates. The programme will commence on September 13.
Programme partners
BEP 2021 has been designed in partnership with the UAE Ministry of Economy's National Program for Small & Medium Enterprises and Projects, local and other international academic institutions, and specialised local entities, including UK-based School for Social Entrepreneurship (SSE); Pakistan's National Science and Technology Park (NSTP); Sharjah Economic Development Department (SEDD); Sharjah International Commercial Arbitration Centre (Tahkeem); Sharjah Entrepreneurship Foundation (Ruwad(; Shiraa International for Projects Management; Sharjah Islamic Bank; and Sharjah Business Women Council.