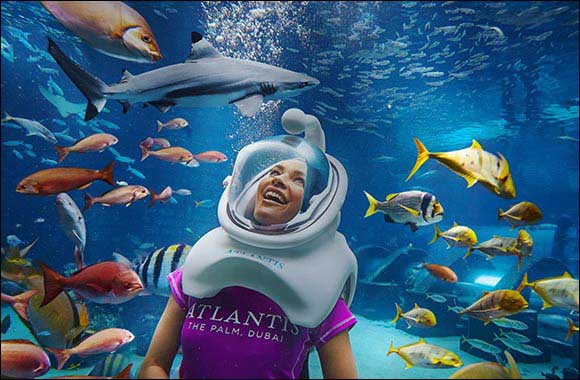 You may have heard about a bucket full of adventurous activities travelers do in their Dubai days. If you love dwelling on a bit more dangerous side, one thing you shouldn't miss in Dubai - Shark Diving. Apart from planning and keeping a budget separate for this experience, another important thing you need to do is training your heart on how not to start pounding heavily.
Shark diving in Dubai is the adventure you are looking for if you love spending under ocean time or experiencing the scuba diving adventure from a different approach. You are going to swim inside of a large-sized tank within a mall. Hence, while gliding through over 33,000 oceanic species, you might notice some shoppers roaming around. Thus, there's no need to be anxious about meeting sharks as you will be within a safe environment throughout the time.
Get Ready to Meet the Monsters
The requirements of shark diving can be different based on whether you have a certificate for diving or not. Certified divers can enjoy the experience after showing their license. However, non-certified people, even those who have no swimming experience, can enjoy the dive after going through a brisk course that Al Boom Diving provides. PADI instructors will be your navigator for the tour, showing you the parts you shouldn't miss.
If you feel like skipping the idea of diving, we have another option for you. Join NetBet to entice yourself with the thrill your money brings spinning with online slot machine reels or whirling with a live casino roulette table.
Keen to book a tour for yourself? Eye on these things before committing a booking.
One can't bring underwater cameras for diving. But, you can always purchase a souvenir DVD since the management has their videographer and photographer.
It will help if you use equipment given by the aquarium managing authority only. It's crucial because the tank ecosystem can be damaged from contamination caused by unsterilized diving gears.
Bring your swimsuits or buy one from there, providing some additional charges.
Diving packages available there have different height and minimum age requirements.
While swimming amidst the finny beasts, the underwater world may feel like soundless heaven to you. But in Dubai, you can also gain the same kind of adrenalin rush even clicking on a computer mouse. How is it possible? You can Bet at NetBet to wager some real money on the best teams or players competing with each other for some world-famous sports event titles. It's nothing less than any adventure rides.
Cage Snorkeling for Non Divers
If you are determined to introduce yourself to stingrays, reef sharks, or any other species without even knowing how to dive, there's accommodation for you as well. You can interact with all of them as much as you want from the safety of a big-sized cage you will be inside of.
Shark Diving Means Memory
Diving in a mammoth-sized tank filled with different marine species, especially sharks, would endow you with some cherish-worthy memories. Besides availing the cage snoring facility, swimming is a great facility no one can deny if you don't know. Therefore, if all are considered at once, visiting Dubai, getting under the water to meet sharks is an all-inclusive marine experience no one should miss.
Pricing Details
The cost you need to bear for shark diving experience in Dubai is 750 AED (including the diving tour from AI Boom Diving). Apart from it, several other packages are available at different prices. You need to spend 120 AED for the explorer experience, and King Croc Encounter is 200 AED and more.