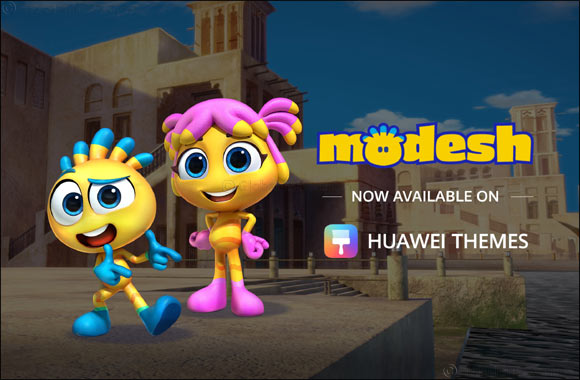 UAE, Dubai – 25 August 2020: Consumers in the UAE can enjoy and experience the amazing new Modesh and Dana themes that are now free to download from the Huawei Themes Store. This rollout has been done in collaboration with to bring more joy and excitement to the users.

Available on all Huawei and HONOR devices supporting EMUI 10 and EMUI 9, users can enjoy a variety of themes from the Huawei Themes store that embody the joyful character, Modesh, along with his new friend, Dana, who has been officially introduced as one of DSS' biggest surprises and Modesh's best new buddy.
Ahmed Al Khaja, CEO, Dubai Festivals and Retail Establishment (DFRE), said: 'The surprises keep coming this Dubai Summer Surprises, as we unveil that Modesh and Dana are now available as unique themes on Huawei and HONOR mobile devices. Embodying the spirit of Dubai, Modesh and Dana have embarked on many adventures together starting this DSS, spreading happiness to residents and visitors. It gives us great pleasure to announce this partnership with Huawei and share Modesh and Dana's personalities with users across the region.'

The Huawei Theme Store is an official theme store app exclusively for Huawei and Honor devices running on EMUI OS. Featuring the most innovative and exciting themes, the app allows users to choose a broad variety of free themes to customize unlock screen, home screen, icons, and fonts.

Adam Xiao, Managing Director, HUAWEI Mobile Services in Middle East and Africa, HUAWEI Consumer Business Group, said: "We are very excited to introduce Modesh, and his new friend Dana, during this year's Dubai Summer Surprises through Huawei Themes store. The Huawei Themes store is quickly becoming a great destination for users who seek to personalize their phone with a fantastic selection of fun and original themes".

The 23rd edition of Dubai Summer Surprises (9 July - 29 August 2020) is part of Dubai's annual Retail Calendar that features major retail-based festivals, mega sales and exclusive retail experiences and attractions.