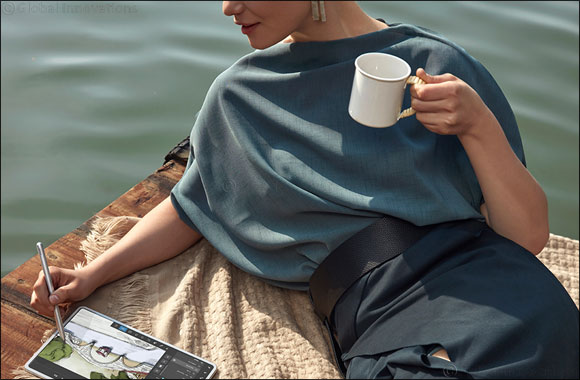 Dubai, United Arab Emirates, June 17, 2020: Creativity is the driving force that turns ideas into reality and nowadays, technology helps us explore our imaginations further, allowing us to look at the world in new ways. This is where the latest flagship tablet- the HUAWEI MatePad Series - comes into play. The HUAWEI MatePad Pro 5G and the HUAWEI MatePad help users rethink creativity, thanks to their unique branding and visionary Seamless AI Life ecosystem. The tablets epitomize Huawei's excellence when it comes to innovations. The HUAWEI MatePad Pro 5G brings smart and seamless multitasking features, slick and smooth design, and solid performance backed up with a powerful HUAWEI SuperCharge charger.
Intelligent Multitasking

The HUAWEI MatePad Pro 5G shifts the paradigm on what is possible with its unique interactive features. It is the world's first tablet with Multi-screen Collaboration based on revolutionary distributed technology. This allows it to connect seamlessly with other devices. In other words, you can stream your Huawei smartphone with the tablet to directly drag and drop different files and calls between various devices, increasing your productivity and efficiency so you have more time to do what you love most.

Additionally, the highly acclaimed HUAWEI APP Multiplier makes it possible for a single app to be displayed in separate windows, a feature ideal for online shoppers. So now you can view that dress you have had your eye on in one window while shopping around for a great deal for a weekend getaway within the same app.
FullView Display for an Immersive Viewing Experience

The HUAWEI MatePad Pro's stunning display brings the world's highest screen-to-body ratio of 90% on a tablet.
This gives the user an even more immersive experience when watching their favourite movies or streaming online videos. You can also take your productivity to a new level with better quality conference calls, or sending emails and so much more, thanks to the larger display.
The immersive 10.8-inch display provides a FullView experience which brings movies, entertainment and internet browsing to life thanks to the high resolution 2K QHD Screen. So, watching content on the tablet is a delight with crystal clear images in vivid detail bringing you closer to the action. This makes viewing content on the HUAWEI Video streaming service app even more fun. Additionally, MatePad series owners are being offered an exclusive 3-month free VIP access to HUAWEI Video, allowing them to enjoy thousands of hours of Arabic and international films and TV shows in an ever-increasing library. There are also millions of tailored short clips to view.
Powered all Day Long

But what good is all this cutting-edge technology if you have to keep recharging due to a low battery level? With the HUAWEI MatePad Pro 5G's 7250mAh high capacity battery and integrated power-saving features of the Kirin 990 and EMUI you have no such concerns.
The tablet uses a 20W power adapter for speedy charging and supports 40W HUAWEI SuperCharge as well as wireless charging and reverse wireless charging.
Revolutionary Mobile Office Experience

The HUAWEI MatePad Pro revolutionizes how we work away from our office or business with the HUAWEI M-Pencil. The accessory delivers a natural and intuitive writing experience. The HUAWEI M-Pencil is an absolute joy to write on glass surfaces in addition to its support for smart magnetic keyboard1.
Aesthetically stylish

The HUAWEI MatePad Pro 5G is available in Forest Green, complete with a trendy a vegan leather finish. The HUAWEI MatePad comes in Grey.
Explore the world of apps

The HUAWEI AppGallery is Huawei's official app marketplace, where users can download a wide selection of global and localised apps. It includes games and productivity to entertainment apps and more. There is also a wide and ever-increasing library of content on HUAWEI Video, HUAWEI Music and HUAWEI Reader.
HUAWEI MatePad

Huawei also announced HUAWEI MatePad along with the HUAWEI MatePad Pro 5G. The HUAWEI MatePad features a stunning 2K FullView Display, 84 percent Screen-to-Body Ratio, Multi-screen Collaboration x App Multiplier and is powered by the high performance 7nm AI Chipset. Quad-speakers allow for immersive surround sound, while the tablet's 7250mAh large battery give it an all-day use capability. It is also compatible with the HUAWEI M-Pencil and Smart Magnetic Keyboard.
Price and availability:
Device

Colour

Price

Availability

HUAWEI MatePad Pro

Forest Green

Starts 1,999AED

Pre-order starts: 24/6/2020

The HUAWEI MatePad Pro pre-order offer comes with AED1199 worth of gifts including HUAWEI M-Pencil, HUAWEI Smart Magnetic Keyboard, 3 months screen protection warranty and 3 months free VIP access to HUAWEI Video streaming platform.

HUAWEI MatePad

Grey

Starts 1,099AED

Pre-order: 24/6/2020

The HUAWEI MatePad pre-order comes with AED599 worth of gifts including HUAWEI Flip Cover Case, HUAWEI AM61 Bluetooth Earphones, 3 months screen protection warranty and 3 months free VIP access to HUAWEI Video streaming platform.