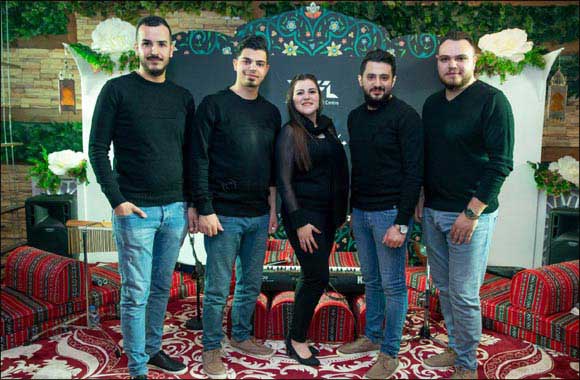 • The Damascus-based band TAKKAT performs for the first-time in the UAE
• Over 15,000 fans gathered to attend TAKKAT's rendition of the Arabic folklore songs
Abu Dhabi; January 22, 2020: Dalma Mall was filled with euphoria and merriment as thousands of spectators gathered to attend the performance of the YouTube sensation, TAKKAT band. For their first international debut performance, TAKKAT witnessed an overwhelming gathering of over 15,000 fans who lined up in the mall hours before the concert began.
Originally from Damascus, TAKKAT claimed its global popularity with its most popular song "Yum Alhob" with nearly 50 million views. Known to revive timeless melodies of the Arabic folklore songs, the band made its first international debut in the UAE at Abu Dhabi's favourite mall – Dalma Mall.
Speaking on the occasion, Mr. Bhupinder Singh, General Manager & CFO, Dalma Mall said "The concert was absolutely mesmerizing. Apart from the success of the event, Dalma Mall is proud to identify such budding talents from across the globe and bring them to the UAE with an effort to offer something unique to our mall visitors. The band's electrifying performance had the mall's atrium and gallery jam-packed with thousands of fans gathered to watch them live. After receiving such a tremendous response, we at Dalma Mall will continue to offer more of such events and performances throughout the year".
The grand performance was organized over two days; the first one was hosted at the recently launched Fizz Lounge in Zeal Entertainment Centre on 16th January; followed by a public performance live at the main atrium of the mall on 17th January. A special meet and greet session were also organized with the band members for the Fizz Lounge customers. The band performed on traditional Arabic folklore revived from the old times, bringing back memories and melodies of the old back to life. The group performed on a number of chartbusters from the world of Arabic music which included their most popular song "Yum Alhob" which has nearly 50 million views as of date and still growing.
One of the band members while thanking the fans at the mall, said; "On behalf of the entire team, I'm grateful for this love, respect and enthusiasm that you have showed us. This is the first time we are in the UAE and I couldn't have been more ecstatic to see such an overwhelming response."