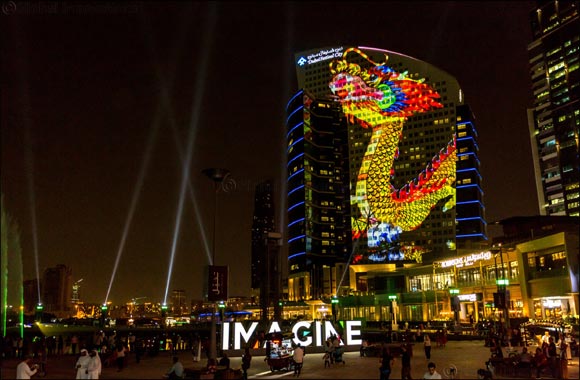 Dubai, UAE, 21 January 2020: In partnership with Dubai Festivals & Retail Establishment (DFRE), Dubai Festival City Mall is gearing up to celebrate Chinese New Year with a special IMAGINE show and an impressive firework display to precede this auspicious Lunar New Year on 25 January at 8:30 PM.
Dubai Festival City Mall will be hosting captivating roaming entertainment for guests to partake in the fête, from the famous Chinese Lion Dance to bring in good fortune, graceful sleeve dances that originate from the Han dynasty to a traditional fan dance which has been part of China's heritage for over two hundred years. In addition to exclusive offers and discounts by retailers, Chinese tourists and residents will get an additional 10% value on the Dubai Festival City Mall gift card, when buying a gift card worth AED 300 and above.
Commenting on the new year festivities, Steven Cleaver, Director, Shopping Centers Dubai, Al-Futtaim Malls said: "Chinese New Year is one of our most popular events with more than 200,000 Chinese residents living in the UAE and hundreds of thousands of tourists visiting annually. These festivities bring us closer to our Chinese community and our visitors are always thrilled to be celebrating the lunar new year through the rich Chinese customs and traditions. We truly hope visitors enjoy our Asian vibes at the mall and hope this year brings us good fortune as per the Chinese zodiac predictions."
Chinese New Year celebrations at Dubai Festival City Mall will feature mesmerizing Chinese New Year décor such as a semi-permanent structure of a dragon for some Instagram worthy pictures. Festival Bay will have a traditional Asian market with interesting cultural themed kiosks and carnival games for families to enjoy. Little ones will also be able to enjoy the LEGO Festival's seven zones spread across the mall and the all-new LEGO NINJAGO IMAGINE show on a daily basis.
Whilst overlooking Dubai Festival City's impressive canal; Anise restuarantrestaurant at the Intercontinental is offering a Chinese New Year take-over with their very own immersive chef-to-diner experience on 24th and 25th January 2020 from 7pm – 11pm. Guests can partake in this delicious international buffet where they can indulge in eight live Chinese cooking station offering an Asian infusion of celebration. Guests can enjoy this experience at Anise for AED 195 per person and AED 50 for children aged between 6-12 year, meanwhile children under 6 year get to eat for free.