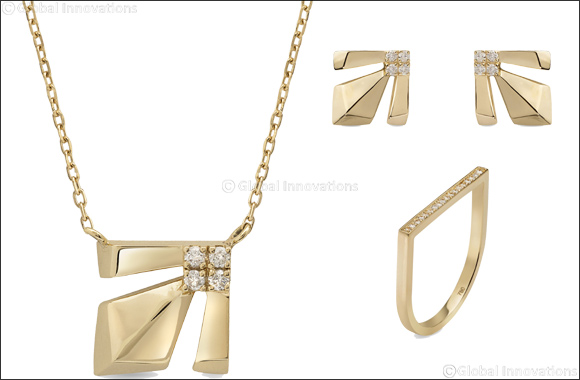 Dubai, United Arab Emirates, December 04, 2019: Jewellery is always a great idea when it comes to gift shopping for that someone special. If you're in the market for a few extra-special gifts, look no further. Sumaya Bakkar Collections, the Arab homegrown jewellery brand, has specially curated a gift list for loved ones this festive season.
Founded in 2015 and named after Syrian Jewellery designer Sumaya Bakkar, the homegrown jewellery brand presents a collection of fine jewellery pieces that's available worldwide offering necklaces, earrings and bracelets with a unique, minimalistic and timeless design that narrate a story. All pieces are handcrafted in 18k gold.
In lieu of the Festive Season, Sumaya Bakkar Collections have specially picked pieces from their various collections to bring you a comprehensive guide of the best trinkets to gift your loved ones.

Necklaces:

Shining Path Necklace: (AED 1800)
Sumaya Bakkar's shining path collection narrates a unique story and leaves a lasting impression on you. The necklace is designed in 18k gold & diamonds and has an adjustable clasp that can be measured to your size.

Heart of Gold (Diamond) Necklace: (AED 1200)
Designed in 18k yellow gold and encrusted with diamonds. the Heart of Diamond necklace shines of uniqueness and elegance.

Bracelets:
Me & Little of Me Bracelet: (AED 1400)
Designed in 18k yellow gold and encrusted with diamonds, the Me & Little of Me Bracelet is a reflection of the wearer's identity then and now.
Passion Bracelet: (AED 1100)
18k gold encrusted with diamonds and Emerald gemstones, the Passion Bracelet is an apt representation of a woman's resilience and passion towards her goals.
Earrings:
Shining Path Earrings: (AED 2100)
The Shining Path collections shines light on the wearer's identity and presents a unique story. It is designed in 18k gold and encrusted with diamonds.
Passion Earrings: (AED 1800)
Part of the Passion Collection and designed in 18k gold with diamonds, the series is a strong embodiment of a woman's courage and passion
Rings:
One-line diamond Ring: (AED 1100)
Carefully crafted in 18k gold and diamonds, the line of diamonds adds a glow to the wearer's identity.
Emerald Ring: (1500 AED)
A creation crafting beauty and excellence, the Emerald Green ring is a timeless amalgamation of 18k gold and the green emerald stone.