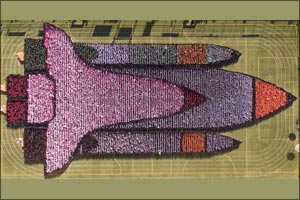 Sharjah, UAE - November 28, 2019: PACE Education Group soars to new heights by achieving a new Guinness World Record of Largest Human Image of a Rocket, as a tribute and expression of solidarity with the UAE's scientific advancement efforts, led by Hassa Al Mansouri, the first Emarati to set foot in space.
Hazza Al Mansouri's remarkable visit to space undoubtedly kindled the desire in many aspiring astronauts to embark their limitless journey to space. Reflecting this great achievement, the students from five schools under the PACE Group formed the human image of a Rocket on 28th November 2019, as part of the National Day Celebrations signifying the spirit of unity in UAE and the vision of the UAE leaders to work towards the future.
This official attempt to the Guinness World Record is the first of its category to form the largest image with students from five schools in UAE. The UAE's prestigious space programme has brought together more than 11,000 students from 21 nations to be a part of the largest human rocket ever created by students in the green yards of PACE International School, Sharjah.
Students from Gulf Asian English School, Sharjah, India International School Sharjah, PACE International Sharjah, Delhi Private School Ajman and the PACE British School Sharjah were among the 11443 participants in this extraordinary achievement.
PACE Group, renowned for its innovative educational initiatives spearheaded by Dr P.A Ibrahim Haji offers school, collegiate and research level programs across UAE, Kuwait and India. The Group is adept at introducing the latest technologies and advancements in education namely digitalized classrooms, robotic labs, e-learning studios, innovation centres, sports facilities, multipurpose halls that offer high-quality education in affordable fee structure.
This marvellous feat was accomplished as a result of untiring leadership spirit of PACE GROUP Chairman Dr P A Ibrahim Haji, along with Directors - Aseef Mohammed, Salman Ibrahim, Abdulla Ibrahim, Zubair Ibrahim, Lateef Ibrahim, Ameen Ibrahim, Adil Ibrahim, Malayil Moosa Koya and Chief Academic Officer Keith Marsh. The event coordinators Mrs Shifana Muiz and Mrs Safa Azad conceptualized and executed the official attempt with unparalleled support from the Principals – Dr Nasreen Banu, Dr Manju Reji, Mr Muhsin Kattayat, Liaison Manager Kallara Hashim, supervisors, teaching and non-teaching staff of PACE GROUP.
The remarkable event was witnessed by the official adjudicator– Ms Shefali Mishra, from GUINNESS WORLD RECORDS who announced the successful attempt as OFFICIALLY AMAZING