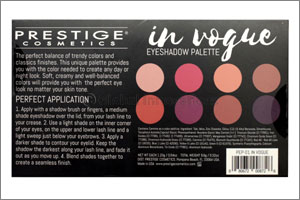 November 28, 2019, Dubai, United Arab Emirates: Time to hit the makeup aisles with all those holiday party invites coming your way! Slay with your dazzling look this joyful season and rock that smokey eye makeup in a flash with Prestige Cosmetics Festive Collection. The special holiday range features three of their go-to mascaras that thickens, lengthens, and curls your lashes, and two eyeshadow palettes that would let you create the best looks this season with its amazing colors.
The extraordinary collection features two gorgeous palettes and three long-lasting mascaras. The Radiant Palette and The In Vogue Palette boast beautiful shades from neutral to shimmer with exceptional ultra-pigmented formulas that would surely help you achieve that smokey eye makeup perfect for the holiday season. The 2 in 1 Doll Lashes, Long Care, and Volume Biggest mascaras in the holiday collection will give your lashes that added naturally-looking length for drama that will last throughout the festivities.
Level up those makeup looks this holiday season and treat yourself with this fantastic festive collection Prestige Cosmetics. This is also perfect for all the makeup lovers in that Christmas List so get those presents in order!
Prestige Cosmetics is available across all Lifestyle, Max, & Exquisite Beauty Stores and online on Glambeaute.com.
Price List:
• Prestige Eye Shadow Palette – In Vogue - AED 99
• Prestige Eye Shadow Palette – Radiant - AED 99
• Prestige Mascara Long Care - AED 59
• Prestige Mascara Volume Biggest - AED 59
• Prestige Mascara 2 in 1 Doll Lashes - AED79