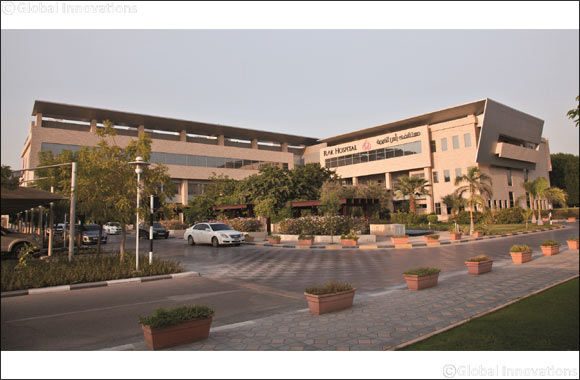 • The week-long camp will be held from 27-31 October between 4pm and 6pm at the hospital premises in Ras Al Khaimah.
• Primary objectives of the camp include promoting a healthy lifestyle and creating awareness about the growing obesity epidemic in the country.
24th October 2019: Ras Al Khaimah, UAE: RAK Hospital has organized a complimentary obesity awareness camp at their premises in the Northern Emirate next week to help curb the rising obesity epidemic that has hit many UAE residents in recent times in both adults and children.
The week-long camp will be held at RAK Hospital from Sunday 27th – Thursday 31st October 2019 between 4pm and 6pm at the Rooftop Café that is a part of the RAK Eye Care Center in Ras Al Khaimah.
The camp is open to all UAE residents (on first-come, first-serve basis),who will be eligible to avail complimentary services including random blood glucose test, thyroid test (TSH) if required, in addition to a free consultation with a specialist and a complete diet and exercise guide.
According to a news report, up to 40 percent of children in the UAE are overweight, while a recent study further revealed that nearly 70 percent of young Emirati men are obese. Such alarming statistics have created an urgent need to repeatedly highlight this health issue which is also a precursor for other conditions such cardiac issues and diabetes.
Commenting on the camp, Dr Raza Siddiqui, CEO, Arabian Healthcare Group and Executive Director at RAK Hospital, said: "Obesity is a growing critical issue that is a prime factor of deaths globally. I think the society is aware of the ill effects of obesity but still tend to take it lightly unless it becomes a threat. Everyone has the right to lead a healthy life in a world where right choices are easy to make. Unfortunately, due to our urban lifestyle, it's often hard to consume a healthy diet and enjoy an active lifestyle. For many people, this translates to obesity and ill health.
"Hence such obesity awareness camps are a steppingstone to encourage people to come forward and test the waters personally, thereby eventually helping them to start leading a healthy lifestyle from today," Dr Siddiqui further added.
The obesity awareness camp will be led by the multifaceted faculty of experts at RAK Hospital who will not only educate attendees about the multiple ways to tackle obesity at an early stage but also help them to recognize the prime symptoms before they lead to something serious.