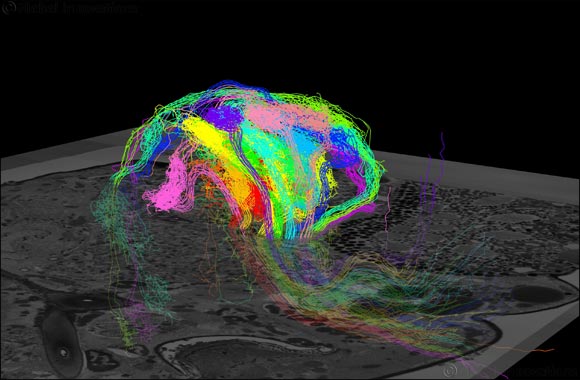 Lenovo and Intel enable researchers at the Flatiron Institute to analyze massive datasets derived from the quantum domain to genomics to the cosmos.
Dubai, United Arab Emirates – October 23 2019: Lenovo Data Center Group (DCG), a global technology leader in driving digital transformation has recently announced a new collaboration with Intel on joint technology solutions that accelerate the convergence of high-performance computing (HPC) and artificial intelligence (AI) in helping scientists at the Flatiron Institute solve challenges in entirely new ways. In line with the company's 'Smarter Technology for All' strategy, Lenovo DCG's, global collaboration with Intel will help progress the advancement of research in the field of basic sciences.

The Flatiron Institute, located in New York City, is the internal research division of the Simons Foundation, whose mission is to advance the frontiers of research in mathematics and the basic sciences. Flatiron's Scientific Computing Core supports scientific work there across four disciplines, requiring an HPC infrastructure to handle a variety of extremely large data files, from giant genomic sequencing files to 100,000 small files in a single directory. Flatiron's on-site cluster – a central HPC infrastructure – is comprised of 17,000 Intel computing cores in Lenovo ThinkSystem SD530 servers, running HPC and AI workloads. This combination allows the computers to analyze large, rich datasets and simulate complex physical processes.

"The innovations taking shape at Lenovo DCG through our strategic global partnerships are paving the way for new solutions to the world's challenges that are unprecedented in scale and impact. As our region continues to undergo rapid transformation, and we begin to witness higher levels of adoption and understanding, there will be more opportunities support local fields that utilize large dataset computing like HPC and AI. In fact, we are already working with several research centers in the region and this is telling of a new appetite for more advanced solutions." Said Dr Chris Cooper, General Manager of Lenovo DCG, META Region. "The power of the Intel processors, combined with the advanced thermal engineering of Lenovo Neptune™ deliver industry leading solutions for HPC customers of any size, from workgroup through supercomputer."

Researchers at the Flatiron Institute are pursuing advances in biological sciences, astrophysics, quantum physics, and computational mathematics. Yet, before the large-scale computing clusters, scientists at the Flatiron Institute were limited in their scientific progress by system constraints that imposed practical limitations in the speed and scope of their system-based research. Lenovo and Intel partnered with the Flatiron Institute to dramatically improve and expand its HPC and AI capabilities, so technologies are no longer the limiting factor in its research.

"We see high-performance computing and artificial intelligence as the keys to unlocking an entirely new era of untapped potential for customers," said Scott Tease, general manager for HPC and AI at Lenovo's Data Center Group. "Seeing some of the greatest minds rely upon our technology to discover answers for some of humanity's most pressing questions is rewarding. But pushing the boundaries of HPC and AI capabilities even further so more people can benefit is what drives us."

"Breakthrough research, like the amazing work being done at the Flatiron Institute, requires breakthrough technology," said Trish Damkroger, vice president and general manager of the Extreme Computing Organization at Intel. "Through our close partnership with Lenovo, we are able to deliver these leading technologies, including the only CPU with both AI and HPC acceleration built in, to help Flatiron work to solve some of the world's most complex issues with faster time to insights."

Leveraging the performance and reliability of the joint Lenovo-Intel solution, researchers at the Flatiron Institute today are not only able to process petabytes of data faster and more efficiently to accelerate the pace of research. They can now carry forward workload-intensive research projects that otherwise would simply not have taken place.

Lenovo and Intel have extended their long-standing collaboration in the data center with a multiyear commitment to accelerate the rapidly growing convergence of HPC and AI solutions to organizations of all sizes. The extended partnership focuses on three key areas: systems and solutions, software optimization for HPC and AI convergence, and ecosystem enablement.
In High Performance Computing Lenovo extended the #1 position in the Top 500 Supercomputer list to 173 systems across 20 markets – continuing to support ground-breaking scientific research and applications around the world. The group will continue to expand as a full stack Data Center player, driving SDI, storage, networking, HPC, AI, IoT, service and solution led sales while strengthening in-house design and manufacturing capability for Hyperscale. In addition, the business will further improve routes-to-market and operational excellence to achieve premium to market growth, while improving profitability.