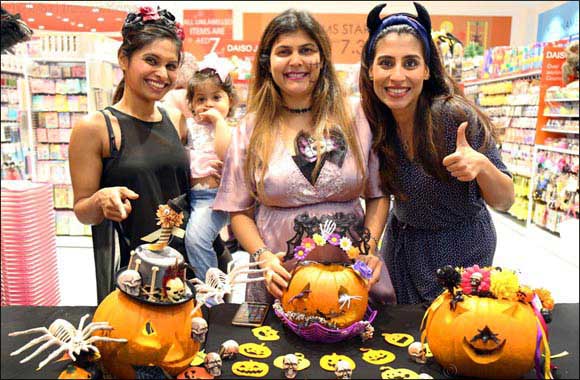 • Included in the range are a host of frightenining and spooky items including cobwebs, buckets, masks, accessories, costumes, make-up and much more…
• The Japanse retail concept store organised a pumpkin carving competition at their Dubai Springs Souk store over the weekend to kickstart the celebrations!
United Arab Emirates, 21 October 2019: Daiso Japan, the Japanese value retail concept with over 40 stores in the UAE has released its collection of Halloween decorations across the region.
The collection is at its spookiest best and features a mix of indoor, outdoor and party decorations catering to shoppers across all age groups. Included in the range is an array of products including buckets, cups, spiders, cobwebs, wigs for both males and females, masks, accessories, makeup, pumpkins, artefacts, costumes for children and adults, LED Lights, and many more!
The collection is aimed at making this Halloween the most frightening of all and is sure make chills run down the shopper's spine as they walk through the aisles at the Daiso Japan stores.
Furthermore, the Japanese retail concept store organized a pumpkin carving competition at their Dubai Springs souk store over the weekend to officially kickstart Halloween celebrations. The hour-long competition involved three leading UAE-based lifestyle influencers as participants who put their best foot forward to carve out and decorate the ideal Halloween pumpkin.
While the first 25 children who attended the event and successfully managed to boo the cashier were treated with gifts. The event garnered a good response from residents and Halloween lovers namely and was an ideal start to the upcoming spooky Halloween celebration.
Like every year Daiso Japan promises its customers a frightful Halloween and this year is no exception as it's got everything you need, right from taking the kids trick-or-treating to creating a scary costume for a Halloween party. Additionally, the decorations available will surely make your Halloween party an absolute scream! Daiso Japan's spooky treats including fake blood, devil horns, scary masks, all-black fashion, fearful costumes, and other accessories and make up which will add those finishing touches to your Halloween 2019 outfit. The brand is known for its diverse and budget-friendly deals, and this Halloween collection is no exception.
Daiso Japan is recognized as a one-stop variety shop selling a wide range of lifestyle, novelty and gift products over the past 15 years. The products are affordably priced starting from AED 5 onwards for this year's Halloween collection, which basically means there's something for everyone at Daiso Japan.