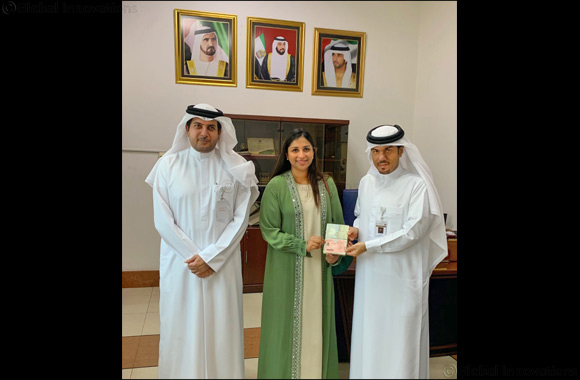 Recognized as one of the top Indian business leaders in healthcare in the Middle East, Alisha becomes one of the first Indian female business leaders to receive the long-term residency visa

11th September, Dubai, UAE: In accordance with UAE government's recent announcement to grant leading entrepreneurs, investors and business professionals with the long-term visa, Alisha Moopen, newly elected Deputy Managing Director of the Aster DM Healthcare Group has now been awarded the 10-year long term Gold Card visa. It comes as an acknowledgement of her efforts to shape the healthcare service sector in UAE while also contributing to the global conversation around the future of healthcare.
Speaking on the occasion, Alisha said, "I am truly honored that the UAE government has recognized me as one of the first woman business leader worthy of receiving this status independently. Receiving this residency status has not only encouraged me to work towards newer and better healthcare innovations through our work at Aster but also motivates me further that the government of UAE has recognized me as an agent of change in the healthcare sector. We sincerely thank the Government of UAE for this visionary initiative and remain committed to the progress of the country."
In her newly elected role, she is managing the company's operations in India and GCC. Having joined the company as a Director in 2013, she is responsible for overseeing the strategic direction and development of the company, and notably spearheading the expansion of the group into new markets. The organization currently employs more than 20,000 people, of which 2913 are doctors and 6475 are nursing staff.
A Chartered Accountant from the ICAS (Institute of Chartered Accountants of Scotland), Alisha has recently been elected by World Economic Forum as a Young Global Leader and inducted into a 5-year programme with like-minded people who are committed and passionate to tackle the main challenges of the world today, with healthcare being one of them. She has also been appointed to the Board of YPO's Dubai Chapter, a global leadership organization that brings together over 27,000 chief executives from over 130 countries, as a Mentoring Chair for 2019-20. She has been awarded the Forbes Top Next Generation Indian Leaders in Asia and GCC in 2018 as well as the Game Changer of the Year Award at Global Women in Leadership Economic Forum, also in 2018, amongst her many accolades.
Prior to her, the long-term visa has also been awarded to Dr. Azad Moopen, Founder Chairman and Managing Director of Aster DM Healthcare along with his wife Mrs. Naseera Azad as well as Mr. Anoop Moopen, Director of Aster DM Healthcare and his family.