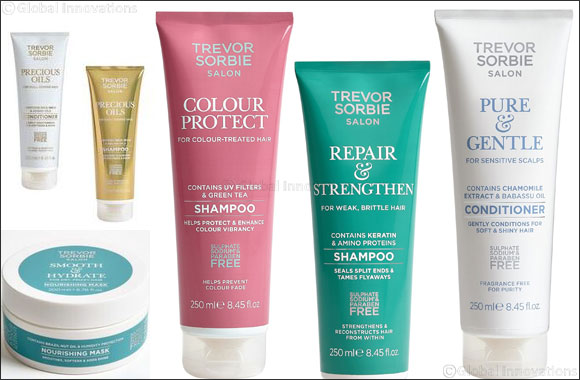 Dubai, United Arab Emirates - May 23, 2019: Dry hair can be caused by many factors, sometimes it's at our own hands, and some causes are beyond our control – here are some of the main causes of dry, coarse hair and how the Trevor Sorbie Precious Oils Collection can help...
Over-use of Heat Styling
We all love to add some curls to our hair every now and then or try a super-sleek style – however daily use of heat styling tools such as hairdryers, straighteners or curling wands can lead to dry, brittle or even broken hair. You should use a heat protecting hair product each time you are heat styling your hair or take a few days out to rock the au-natural look!
Extreme Temperatures
Living in a region with severe temperatures will of course take a toll on your tresses, the heat can dry hair out, humidity can cause hair to frizz, and cold temperatures from air conditioning can cause split ends and even hair loss. The best way to combat this is frequent nourishing hair masks, these can be done at the salon or even at home – coconut oil is great natural remedy, it can be used as a hair mask and to seal split ends.
Damaging Hair Products
If you frequently dye your hair or use chemical treatments this will have a damaging effect on your hair over time – harsh chemicals strip your hair of moisture and can cause permanent damage. If you can't give up the colour – try a gentle or natural hair dye that will be kind to your locks.
Combat dry hair with the Trevor Sorbie Precious Oils Range...
The Trevor Sorbie Precious Oils range contains vitamin-rich Argan and Inca Inchi oils that will replenish even the driest of hair; leaving you with healthy, luscious looking locks with an added luminosity. Consisting of a luxurious Shampoo (AED92) to cleanse and protect, a deeply-moisturising Conditioner (AED98) to smooth and soften and a Shine Oil (AED105) that will replenish dry hair and give it an incredible sheen. Perfect for fighting frizz and smoothing split ends – the Shine Oil can be used on damp hair as a nourishing treatment, or on dry hair to tame flyaways and add even more shine.