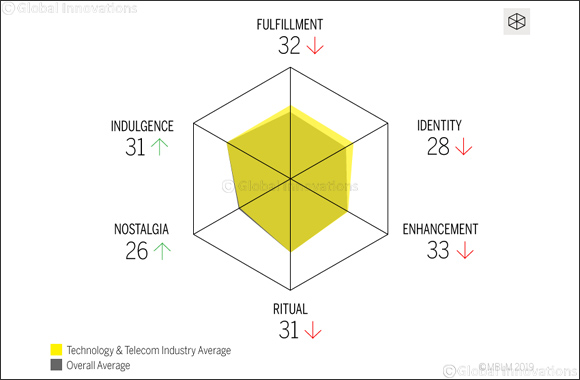 Microsoft Rises from 5th to 2nd Place, with du and Etisalat in 9th and 10th Place Respectively
Dubai, UAE, March 19, 2019: The technology & telecom industry in UAE has maintained its rank as #2 among 15 industries researched for the third year in a row in MBLM's Brand Intimacy 2019 Study. Microsoft has demonstrated the strongest growth in the industry, rising to #2 this year from #5 in 2018 and #8 in 2017. Meanwhile, despite a decrease in its overall Brand Intimacy Quotient (BIQ), Apple still ranks #1 in the industry and overall in the Brand Intimacy Study.
Brand Intimacy is defined as the emotional science that measures the bonds we form with the brands we use and love. Top intimate brands outperform top brands in the S&P and Fortune 500 indices for revenue and profit. Consumers are also more willing to pay price premiums for intimate brands and less willing to live without them, according to the Brand Intimacy 2019 Study.
"Technology & telecom is a critical industry for the UAE's competitiveness and efficacy. The feeling of enhancement through technology is palpable around us, and this industry is a natural vehicle," said William Shintani, Managing Partner at MBLM. "Microsoft has successfully entered the cloud-based services arena and revitalized its brand to deliver key innovative services, repositioning themselves in the hearts and minds of their consumers."
Other notable findings in the technology & telecom industry include:
Technology & telecom ranks #1 among all industries for having brands consumers can't live without.
41 percent of users surveyed are in some form of intimate relationship with a technology & telecom brand.
The top three Most Intimate Brands for men in the entire study are all from the technology & telecom industry: Apple, Microsoft and Google.
Apple is the Most Intimate Brand for millennials (18-34 year-olds), while Lenovo ranks #2.
Microsoft is the Most Intimate Brand for 35-64 year-olds.