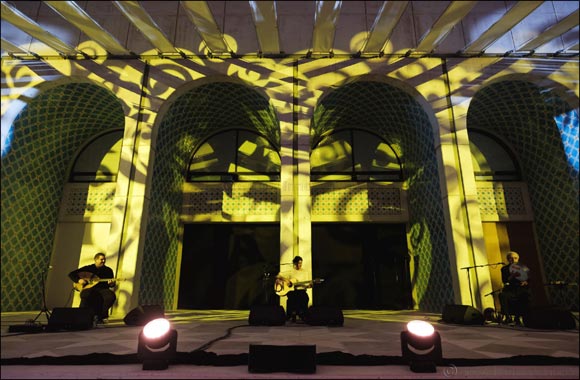 Qasr Al Hosn receives its first members of the public since restoration completion
Abu Dhabi, 8 December 2018 – Qasr Al Hosn, the UAE capital's most important cultural site, has now reopened to the public following more than a decade of careful restoration by the Department of Culture and Tourism – Abu Dhabi (DCT Abu Dhabi). Today, the historic gates were once again opened and visitors entered to be able to experience a celebration of the emirate's rich history and culture that marks the start of a week-long programme of public events and programmes. Performances from Salem Shukri Al Attas, the Soaud Massi Trio Al Ain marked the opening day festivities, with a a performance of Memory of an Emirati Song by Khalid Mohammed & Fatima Zahrat and many more will follow in the coming week.
SOAUD MASSI TRIO
Often cited as one of North Africa's greatest female singers, Souad Massi is back on tour with a new program from her sixth studio album El Mutakallimûn (Masters of the Word). The album brings to life a set of Arabic poems that date back to the sixth century. Her performance will also include some of the greatest songs from her back catalogue - including Yemma, Deb, Amessa and Hayati. She will be joined onstage by long standing companions and friends, percussionist Rabah Khalfa and guitarist Mehdi Dalil. Together, they enjoy an almost telepathic musical connection that speaks of deep love and respect for one another.
SALEM SHUKRI AL ATTAS
Salem is a 25 year old Emirati performing poet who began reciting poetry in 2012. Originally a process Engineer with a passion for the arts, he has since won several Poetry Slam competitions and awards, including Performer of The Year 2014 and the Abu Dhabi Grand Slam Finale Championship hosted by Rooftop Rhythms. Attas has also co-hosted the First Annual Abu Dhabi International Poetry Festival and given numerous workshops on performance poetry and delivery.
Attas is very active in the community as a guest speaker, giving talks to students on performance, as well as having been a guest.
In addition to the musical performances, a number of activations as part of the opening week celebrations will bring the site's history to life and offer visitors a glimpse into the story of Abu Dhabi and its people. The opening week programming will include activities exploring Emirati history and culture, from traditional Talli embroidery, rope-making and khoos weaving to learning about how the first fishing nets were cast and made, how fish were salted, and how oysters are opened.
Al Hosn is Abu Dhabi's original urban block, comprising four interrelated components: the historic Qasr Al Hosn Fort, the National Consultative Council building, the Cultural Foundation and the House of Artisans.
OPENING WEEK PROGRAMMING
The opening of Al Hosn site will be marked with a week-long celebration from 7 to 15 December 2018.
Opening Week Hours
Sunday to Thursday
10am to 10pm
Friday-Saturday
10am to 11pm
Opening week site visits, performances and workshops
Al Hosn Pavilion
Unique panoramic audio experience of Al Hosn and performances showcasing the best of UAE culture.
EVERY DAY
10:30am to 12:30pm
2:30pm to 6:00pm
House of Artisans
UAE artisans will be offering workshops and demonstrations of traditional Emirati crafts including Tali embroidery and Al Sadu weaving.

SAT-THURS 9am to 7pm

FRI 2pm to 10pm

Qasr Al Hosn Fort
Visit the guardian of Abu Dhabi's history with artefacts and archival materials dating back as far as 6000 BC.

SAT-THURS 9am to 7pm

FRI 12pm to 10pm

Cultural Foundation
UAE's first multi-purpose community centre established in 1981 by the late Sheikh Zayed bin Sultan Al Nahyan is presenting a landmark exhibition titled Artists and the Cultural Foundation: The Early Years
SAT-THURS 9am to 8pm
FRI 12pm to 10pm
Musical Performances
Friday 7 December
Salem Shukri Al Attas
6:30pm
Friday 7 December
Soaud Massi Trio
8:30pm
Saturday 8 December
Salem Shukri Al Attas
6:00pm
Saturday 8 December
Majaz
8:00pm
Wednesday 12 December
Elbrus
6:00pm
Wednesday 12 December
Memory of an Emirati Song – Khalid Mohammed & Fatima Zahrat Al Ain
8:00pm
Thursday 13 December
Elbrus
6:00pm
Thursday 13 December
Naseer Shamma & Global Project Ensemble
8:00pm
Friday 14 December
Iftah Ya Simsim
6:00pm
Friday 14 December
Chehade Brothers
8:00pm
Saturday 15 December
Iftah Ya Simsim
6:00pm
Saturday 15 December
Yousif Yaseen (Mukhalef)
8:00pm
OPENING HOURS AND ENTRY FEES
Operating Hours (includes Qasr Al Hosn, Cultural Foundation and House of Artisans)
Saturday to Thursday
9am to 7 pm
Friday
12pm to 10pm
Musallah/Prayer Rooms, and Landscape
Open 24/7
Entry to House of Artisans, Cultural Foundation, and the landscape is complimentary, excluding Qasr Al Hosn, special workshops and events. Tickets for the Qasr Al Hosn permanent exhibition are AED 30.
Memory of an Emirati Song – Khalid Mohammed & Fatima Zahrat Al Ain