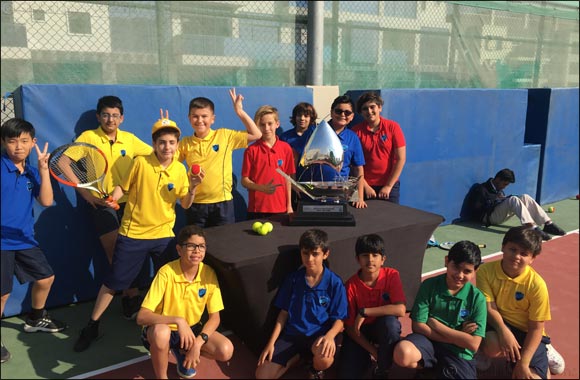 February 6, 2018; Dubai, UAE: Schools across Dubai have been getting into the swing of things in the lead up to the Dubai Duty Free Tennis Championships, with over a thousand children from ten schools participating in the Partner Schools Programme.
Schools across the emirate have been invited to participate in the programme, which was developed to create a legacy from the Championships by providing children with the opportunity to try tennis, and to get involved with the event through academic and sporting activities and participation in the always popular J.P. Morgan Kids' Days.
Partner Schools are being visited in the weeks leading up to the tournament with the students participating in a tennis taster clinic with teachers and coaches, playing the Championships tennis inflatable game, meeting the mascots Ace and Annette, seeing the trophy and participating in the 'Adopt a Player' project.
Schools who participate in the programme are also invited to the J.P.Morgan Kids' Days on Mondays of both the WTA and ATP week. And in a highlight for the participating schools, the schools which produce the best "Adopt a Player" projects will get to present their work to the player after the Kids' Day activities.
For Hartland International School the tennis clinic was incorporated into the school's sports day. Lee Britten, Head of PE said "Our sports day is a very exciting day on our school calendar. Giving the kids the opportunity to learn specific tennis skills really added a lot to our event. It was amazing fun for the kids and I hope the experience encourages more kids to take up tennis."
The visit was a hit with the students too. Hartland student 11 year old Nicola Parsons said "I am having a really fun day! I used to play tennis but I haven't played in a while, now I want to play again!"
And in a special treat for students at the GEMS Wellington Academy in Silicon Oasis, the UAE's top player Omar Behroozian also joined in the fun when the travelling show visited yesterday.
Two weeks of spectacular entertainment begins with the WTA event which takes place 19th to 24th February, which includes Wimbledon champion Garbine Muguruza, five-time Grand Slam winner Maria Sharapova, two-time Wimbledon champion Petra Kvitova, defending Dubai champion Elina Svitolina, and former world number one Angelique Kerber. The tournament continues between 26th February and 3rd March with the 26th staging of the ATP World Tour event which includes ATP World Tour Finals champion Grigor Dimitrov.
The Dubai Duty Free Tennis Championships is owned and organised by Dubai Duty Free, and held under the patronage of H. H. Sheikh Mohammed bin Rashid Al Maktoum, Vice-President and Prime Minister of the UAE and Ruler of Dubai.
Grandstand ticket prices for the WTA event start at AED55 for opening rounds to AED735 for the ATP finals, with daily Prime A and Prime B tickets and season tickets also available. (All inclusive of VAT).