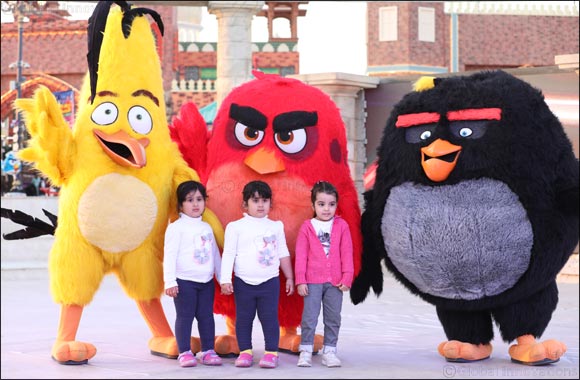 Kids will have the chance to perform on the Main Cultural Stage of Global Village within the Global Show Academy
The festival, dedicated to celebrating children, runs from 3rd to 24th February 2018
A football challenge for children will be held during Kids Fest
4 February, 2018 -Dubai, UAE: Global Village, the region's first multicultural festival park, and a family destination for culture, shopping and entertainment, has announced the return of Kids Fest, for its 3rd successive year, from 3rd – 24th February 2018.
Kids Fest will be a 21 day celebration dedicated to elevating the Global Village experience for children. Several new attractions and games have been added to the festival that will be held around the Roman Amphitheater in the park. As the region's premiere hub for family entertainment Global Village's commitment to deliver new and innovative attractions for children and young adults is evident in their efforts for Kids Fest.
Highlights of the festival include the Global Show Academy and the Global Village Football Challenge for kids, to be played among students from 40 different schools in the country.
In addition to the performances, professional artistes from them Global Show Academy will organize dedicated workshops for children that will allow them to learn a range of performances. The workshops will be held daily in the Roman Amphitheater and then kids will get the chance to perform live on the Main Cultural Stage in front of thousands of other guests. It is a great opportunity for children to engage in self-confidence building activities.
This edition of Kids Fest will also see the Global Village Football Challenge for the first time. Students from more than 40 schools in the country will participate and exhibit the spirit of positive competition.
During the festival, between 3rd and 24th February 2018, the area surrounding the Roman Amphitheater will be abuzz with free face painting, balloon modeling and multiple street performances. A life size Snakes and Ladders installation will offer participants the chance to take home goody bags courtesy of Global Village. Adults can join the fun too as kids participate in a traditional game of Snakes and Ladders, engaging with unique live entertainment away from technology and gadgets.
Announcing the return of Kids Fest this season Bader Anwahi, CEO of Global Village, said "The return of Kids Fest for its 3rd season shows our dedication to provide quality entertainment for the whole family. Bringing together cultures from around the globe and promoting goodwill among all ages goes hand in hand with our commitment to the community and family values. In this edition of Kids Fest, we are keen to present the football tournament as sport is one of the most important pillars of the healthy physical and intellectual development of children. Playing and promoting sport is in line with the UAE's orientation, being one of the most important contributors to happiness in society. As a leading tourist destination in the UAE it is our mission to continue innovating the park and its various offerings, especially for young children and families; reinforcing our role as not only the biggest outdoor park of the region but also the best."
Children will also be able to meet their favorite cartoon characters such as Angry Birds and Chhota Bheem, and take photos with them and other characters including Globo and his gang - the mascots of Global Village. Kids will also be able to tackle an obstacle course complete with a Globo bouncy castle.
Throughout Kids Fest street performers, magicians and clowns will entertain families alongside the unique, limited time, attractions reserved for this celebration.
All events of Kids Fest are included in the price of the ticket to Global Village - only 15 Dirhams as it continues to host guests in its 22nd season with a bouquet of entertainment events and festivals that will last until 7th April 2018.